New Movies Coming to Theaters
With the holidays coming up, many are heading to the movie theater. Here are just some of the movies  released this month.
Man Down – Released December 2, 2016
Starring Shia LaBeouf

IMDb rating: 6.3/10

The place he once called home is no better than the battlefields he fought on overseas. Accompanied by his best friend, a hard-nosed Marine whose natural instinct is to shoot first and ask questions later, Gabriel searches desperately for his estranged son and his wife, leading to a suspect who has vital information about their location.

Rated: R

Time: 1 h 30m
Jackie – Released December 2, 2016
Starring Natalie Portman

IMDb rating: 7.5/10

A grieving Jacqueline Kennedy (Natalie Portman) examines her husband's (John Carroll Lynch) legacy as the nation mourns his death.

Rated: R

Time: 1 h 39m
Office Christmas Party – Released December 9th, 2016
Starring

Jennife

r Aniston

,

Jason Bateman

,

T.J. Miller

,

Kate McKinnon

,

Jillian Bell

,

Courtney B. Vance

IMDb rating: Not yet rated

When the CEO (Jennifer Aniston) tries to close her hard-partying brother's (T.J. Miller) branch, he and his chief technical officer (Jason Bateman) must rally their co-workers and host an epic office Christmas party in an effort to impress a potential client and close a sale that will save their jobs.

Rated: R

Time: 1 h 45m
Passengers – Released December 21, 2016
Starring:

Jennifer Lawrence

,

Chris Pratt

,

Michael Sheen

,

Laurence Fishburne

,

Andy Garcia

,

Aurora Perrineau

IMDb rating: Not yet rated

On a routine journey through space to a new home, two passengers, sleeping in suspended animation, are awakened 90 years too early when their ship malfunctions. As Jim and Aurora face living the rest of their lives on board, with every luxury they could ever ask for, they begin to fall for each other, unable to deny their intense attraction… until they discover the ship is in grave danger. With the lives of 5000 sleeping passengers at stake, only Jim and Aurora can save them all.

Rated: PG-13

Time: 1 h 56m
Why Him? – Released December 23, 2016
Starring: James Franco, Zoey Deutch, Bryan Cranston

IMDb rating: Not rated

Over the holidays, Ned, an overprotective but loving dad, and his family visit his daughter at Stanford, where he meets his biggest nightmare: her well-meaning but socially awkward Silicon Valley billionaire boyfriend, Laird (James Franco). The straight-laced Ned thinks Laird, who has absolutely no filter, is a wildly inappropriate match for his daughter. The one-sided rivalry — and Ned's panic level — escalate when he learns that Laird is about to pop the question.

Rated: R

Time: 1 h 51m
Rouge One: A Star Wars Story – Released December 16, 2016
Starring:  

Felicity Jones

,

Mads Mikkelsen

,

Alan Tudyk

IMDb rating: Not yet released

In a time of conflict, a group of unlikely heroes band together on a mission to steal the plans to the Death Star, the Empire's ultimate weapon of destruction. This key event in the Star Wars timeline brings together ordinary people who choose to do extraordinary things, and in doing so, become part of something greater than themselves.

Rated: PG-13

Time: 2 h 14m
About the Writer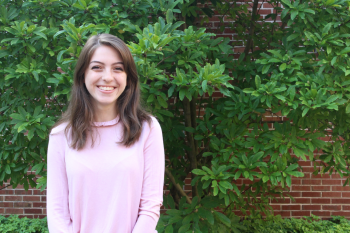 Elizabeth Johns, Assistant Editor-in-Chief
Senior Elizabeth Johns is the assistant editor-in-chief of the Courier Staff this year. She is a  journalist interested in the arts and entertainment...