App of the Week: Rent the Runway
By Grace Gorham, Contributing Writer
December 1, 2016|103 Views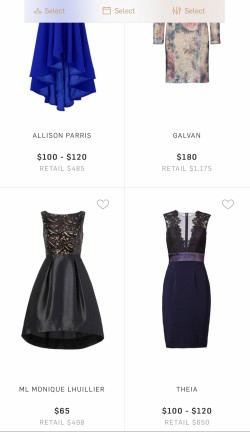 If you hate the long, tiresome, and expensive experience of dress shopping, Rent the Runway is the app for you.
  This app allows anyone to rent a dress or accessories for cheap prices. Dresses that are worth hundreds or even thousands of dollars can be rented up to eight days for anywhere from $30 to $500. Rent the Runway is a convenient and cheap way to score a designer outfit.
  Freshman Caroline Kinna has used the app before, and is hoping to rent a dress in the future. She likes that there are so many different dresses for every style and price range.
  "I liked how you could view photos of actual people wearing the clothing before renting, and I would definitely use it in the future because it is inexpensive, and there is such a wide range of selections," said Kinna.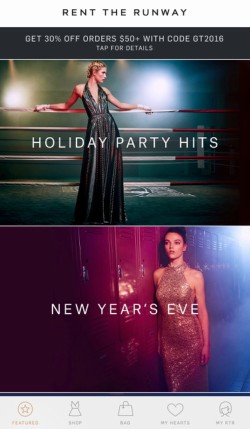 Freshman Natalie Thomas likes the idea of not spending an outrageous amount of money on a dress that is worn once.
  "Typically, lots of money is spent on a dress for a special occasion, and then it's never worn again. But with the app, I rented a dress that I liked for less than half the cost of what it would have been if I had bought it," said Thomas.
  Freshman Livia Haines used Rent the Runway to rent her homecoming dress and was impressed by the app.
  "I definitely had a positive experience! The app was easy to navigate, and I liked that you can recommend it to others, and it gives you a code that you can send to them. That way, if they either make an account or order a dress, you both get a special deal on your next order," said Haines.
  Many people who come across Rent the Runway are skeptical about renting a dress without having tried it on. However, the creators of the app have taken that into account. Thomas describes this as another feature she likes about the app.
  "Some might not want to use it because they fear that the dress won't fit when it arrives, since trying it on beforehand isn't possible. However, the app is helpful because it sends you two of the same dress in two sizes, so you can choose to wear whichever fits you best," said Thomas.
  Overall, Rent the Runway is a popular app among many people because it showcases top brand products while still being convenient and inexpensive.
About the Writer
Grace Gorham, Contributing Writer
Senior Grace Gorham is a contributing writer for the Courier this year. Outside of school, she rides horses competitively. In her free time, she enjoys...