'Fantastic Beasts…' Finds Harry Potter Fans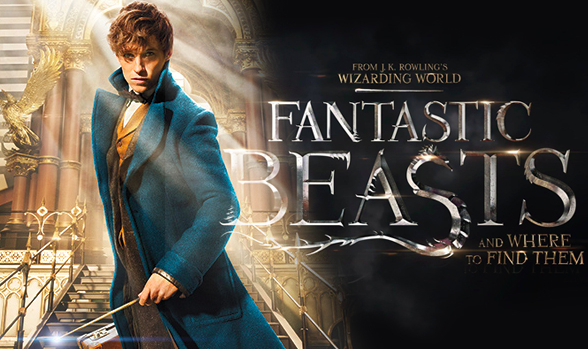 Hang on for a minute...we're trying to find some more stories you might like.
Fans thought the wizarding days would be over after the finale of the Harry Potter series, but J.K Rowling gave us one more chance to see the magic come alive again with her new book turned movie Fantastic Beasts and Where to Find Them, directed by David Yates.
The movie takes viewers into a whole new wizarding world, different from Harry Potter's reality. The film is based in the roaring 20's of New York City, but jazz and bootlegging is not the focus for the characters, a dark evil consumes their time and the race to save the city before it destroys everything.
Main character Newt Scamander(Eddie Redmayne) jumps the
pond from the United Kingdom to the Big Apple. Scamander carries around his trusty briefcase that fools the muggles to think he is a normal working man when instead he is actually carrying around beasts and different magical creatures. Within minutes of arrival, Scamander is already swept up in adventure to capture the beast destroying cobblestone streets, knocking down houses and terrorizing people. As the movie continues we see that no case is solved without the help of a hero's trusty sidekick and a female companion. A muggle, Jacob Kowalski(Dan Fogler), and wizard, Porpentina Goldstein(Katherine Waterston), take on the challenge to help Scamander escape the evil of the beasts while keeping a good reputation for his own fantastic beasts, which he cares for and keeps out of harm's way.
With the withdrawal of Harry Potter, the movie allows fans to reunite with their magical side; although, do not expect the sequel to Harry Potter. We all long to see Harry Potter, Hermione Granger and Ron Weasley once again, but the most fans get is a couple of references to Hogwarts and Albus Dumbledore to connect the two films. The movie goes down a different road than Harry Potter did; it takes on this idea of wizard vs. human vs. beasts, where in all 8 Harry Potter films we mostly saw wizard vs. wizard. Fans get to engage in the magical creatures that were lurking in the shadows of the Harry Potter films and watch just how the wizards of New York will save the world from darkness. The movie offers fans to have the opportunity to fall in love with new wizards; although, they may not be the beloved iconic characters in Harry Potter.
Fantastic Beast and Where To Find Them is rated PG-13 and has a running time of 2 hours and 13 minutes. According to IMDB, critics gave the film an 8/10. The movie is in theaters now, and tickets are available for purchase online and in theaters.