Week in News: Thanksgiving Break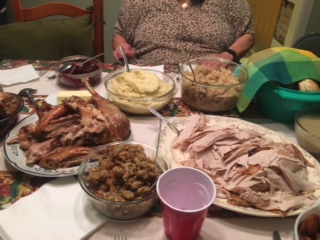 Hang on for a minute...we're trying to find some more stories you might like.
From the latest trends to the popular shows, we cover it all.
The Magic That Never Dies
Harry Potter fans it's time to reunite! Friday, November 18 is the release of the new movie Fantastic Beasts and Where to Find Them. Wizards and muggles alike will be making their way to theaters to see what the wizarding world was truly like before Harry Potter's time. Located in New York's secret community for wizards and witches, Newt Scamander, played by Eddie Redmayne, will show fans what life was like 70 years before the first magical world most people are familiar with, created by J.K. Rowling. Grab your wands, buy your tickets and head to your closest theater this weekend to join in on another adventure created by Rowling.
Safety Pin Movement
While this trend is still kept on the down low, it is slowly getting more and more recognition throughout the states. As started in the UK, wearing a safety pin symbolizes that you care and will support those who battle with xenophobia, racism, sexism, and ableism. Most people know how hard the election affected people. With this trend, it demonstrates that despite who the current president is and despite their beliefs, there are people that want to help and care about those who feel fear. Such people wear safety pins attached to their clothing and spread the word
through the usage of social media. The safety pin trend is a way to unite the population during a hard time for many.
Thanksgiving TV Special Favorites
Food is not the only thing we can look forward to this Thanksgiving. As for most holidays, TV channels never fail to play Thanksgiving themed shows and movies. Whether it be the Modern Family Thanksgiving episode or This Is Us movie, the most memorable and unforgettable TV specials are the Macy's Thanksgiving Day Parade and A Charlie Brown Thanksgiving. The Parade is filled with oversized, colorful floats that march around the streets of NYC, where popular singers perform their hits. Because Thanksgiving is the gateway to Christmas, the parade ends with a visit from Santa. After watching that in the morning, the Charlie Brown special is a great way to end the night. Together, Charlie and his friends plan their own Friendsgiving. These two are classic shows that are worth the watch.
Snapchat's Newest Addition
Innovations are constantly happening in the world around us, throughout apps and new technology. Snapchat is one of the most innovative apps when it comes to updating their features. Going from sending a quick photo, to posting videos, to being able to call and facetime friends, Snapchat has covered exactly what the people want. To keep their trend going, they have added a new feature to the app. Working with the large variety of filters, they have now added a thing called "World Lenses,"which allow users to be able to use filters on anything, rather than just a face detected on the camera. Adding this feature will allow Snappers to enhance their creativeness and have more fun while they take pictures and share memories.