Protests Nationwide Following Trump's Victory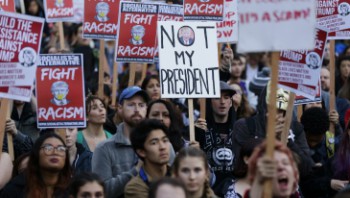 Hang on for a minute...we're trying to find some more stories you might like.
 In light of Donald Trump's recent presidential victory over Hillary Clinton, those who are passionately against the new president-elect are taking their hatred to new levels.
  American flags are being burned, and the phrase "Not my president" is being heard around the world.
  People are comparing the event to the horrific 9/11 and are hating on those who support Trump, calling each other racist, homophobic and sexist.
    This national conflict is present in every community, but large protests are taking place in New York, Chicago, Seattle, Portland, Berkeley, Pittsburgh and Oakland. 
People have taken to the streets, blocking traffic and train tracks, and setting things on fire.     
  Sophomore Julia Kelbaugh does not think that the violence helps to effectively convey a message.
  "Freedom of speech is a right that we have, but there's no freedom of 'I'm going to punch you in the face because Trump won.' So there's a line. Peaceful protests are known to work, violent protests are known to create more commotion," said Kelbaugh.
  Citizens are scared by the protests, but also because they believe their rights and freedoms may be taken away by Trump's presidency.
  Social Studies teacher Robert Cousineau believes that citizens' rights will be protected by the Constitution, no matter who they are.
  "There is something in our country called the Constitution. And the Constitution protects those individuals and there's a lot of people that would stand up or prevent their Constitutional rights from being violated. Everyone from legislators to most importantly the courts. So the bottom line is people have Constitutional rights and under the 14th Amendment, all citizens are protected equally under the eye of the law no matter what gender, race, religion, etc. that you are," said Cousineau.
  Not only adults are impacted by this recent election, but students as well.
  Although not eligible voters, some students are blaming each other for the outcome of the election.
  From Twitter fights to verbal arguments in the hallways, there are those who are neutral, those who are outraged, and those who will go to any length to defend the president-elect.
  Sophomore Emily Ditt has been keeping a level head throughout the whole election.
  "Most people in high school can't even vote. So I feel like it's not that big of a deal with us because you didn't vote for Trump to win, and the other person didn't vote for Hillary to win most likely. It's not really your fault for supporting them and vocalizing your opinions about them, as you couldn't even vote and put in your input," said Ditt.
  Hillary Clinton may have ceded, but her supporters have not.
  In the words of Clinton, "I'm hoping [Donald Trump] will be a successful president for all Americans," she said, "We owe him an open mind and a chance to lead. (slate.com)"
  Most are calling for peace, saying that the election is over, and the country must recognize that Trump will be inaugurated in January of 2017.
  There is always opposition when a president is elected, but nothing this big has happened in recent history.
  The two candidates were both unforeseen, Hilary setting out to be the first female in office, and Trump, a businessman who until now was not on the political scene.
  The supporters of both candidates are as polar opposite as the candidates themselves.
  Americans will either come to terms with the situation at hand and move on, or the hate will continue among adults, student, and political figures alike.
About the Writer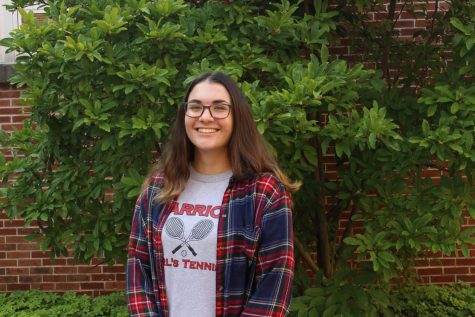 Mia Kobylski, Editor-in-Chief
Senior Mia Kobylski has been on the Courier staff for three years. She plays on the varsity tennis team and participates in Best Buds, Student Council,...