Adopt-A-Family, Spread the Cheer
   With Christmas right around the corner, student council is using a Christmas tree in the high school lobby to raise funds and collect gifts for Adopt-A-Family.
 This fundraiser is a Southern Community Services holiday share program, which is a school-wide drive to raise money and gifts to give to children involved with the Adopt-A-Family fundraiser that Susquehannock has been involved with for the past three years.
  Their goal is to raise at least $3,000 with money and gifts to help all those in need.   Adopt-A-Family allows people in the community to buy specific gifts for families that aren't able to afford much, so they have a great holiday season.
  Student Council adviser Kellin McCullough creates a great method that she hopes the students will follow towards exceeding their goal in how much money they want to make.
  "If every student and staff member in our school donated just three dollars, we could exceed our goal. It means a lot for others and really makes a difference," said McCullough.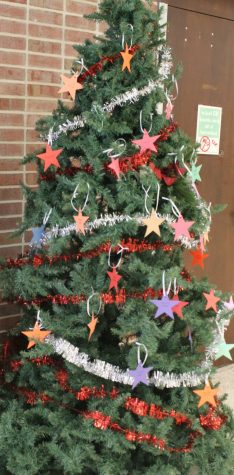 Every homeroom will also be given a box to collect monetary donations for the fundraiser. The homeroom that raises the most money will be given breakfast.
  Junior student council member Erin Kaliszak finds it worthwhile when gifts are being donated by students.
 "You can tell that they are really appreciative of what we are doing," said Kaliszak. "Even if people can't donate gifts from the tree, even just donating money in your homerooms can make a big difference."
  The Christmas tree has over 60 stars with different gifts that could be bought for the fundraiser. Items like blankets, nail polish, board games and clothing are all listed on the stars for students and staff to pick off of the tree and donate to the program.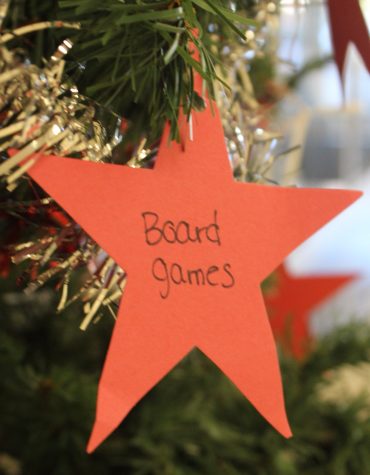 McCullough expresses her excitement for the fundraiser as it makes its way into the holiday season.
  "It's great to see the community outreach the giving of this year and the kindness that students have for other people is amazing," said McCullough. "Student council students get excited for this, and they enjoy running the event. It's a feel good type opportunity for students to give to others."
  Junior student council member Kaleb Fair is looking forward to the reactions of the families that are receiving help this holiday season.
  "The families are always really grateful, not only for the gifts themselves but for our students' generosity," said Fair. " I love this season, and a huge part of that is helping others. It just feels good to do good for others."
  Stars are already missing from the tree; students are already beginning to bring in donations for the program.
  With any further questions regarding the holiday share program or where to donate, feel free to email Kellin McCullough at:
About the Writer
Autumn Polanowski, Reporter
Senior Autumn Polanowski is in her first year of The Courier's staff. She is very interested in giving advice to her peers through her writing and by showing...