Ticket Booth Opens for Business
The new ticket booth that has been under construction since the beginning of the school year is finished, despite a few minor details such as finishing the roof and painting the floor.
The idea was set into motion last spring, and the goal was that it would be finished by homecoming, but with a few minor deadline set backs, the ticket booth was ready by the last home football game.  
Woodshop teacher Garth Hoffman comments on the process.
"It went pretty smooth. The hardest part was just trying to get it done, basically meeting deadlines. There were other parts of the building that we were not responsible for, that were not completed, which extended our deadline a bit, but there really wasn't a lot of difficulty," said Hoffman. Many said that the actual construction was easy. Hoffman said that all materials were donated by local companies such as Cam Builders, LL Brick Supply, Rain Tree, Shrewsbury Concrete, and Kinsey construction; the students built high end, custom cabinets from scratch.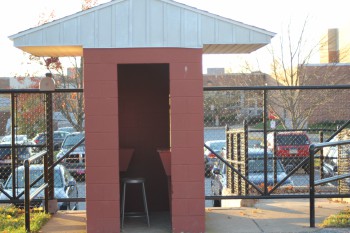 Senior Kayla Gemmill helped construct the cabinets in the new ticket booth; she said that she believed the hardest part was not her job, but the job of the students who worked on the brick.
"Something that I learned was that working as a team makes the job much easier, and you get things done quickly and efficiently. The work ethic of the people working around me was awesome. We had a task at hand, and we all worked hard to get it done and installed in a certain time frame," said Gemmill.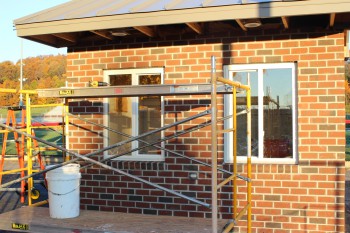 Junior Kari Cox worked on the cabinets as well, and she weighs in on what she learned.
"Throughout the process I learned how important teamwork was. If only one person did some of the work, it would have taken a lot longer to get it completed, but since we all worked together it was able to be completed in a very short amount of time," said Cox.  The new ticket booth will be in full use for future events and will make getting into events easier.