Gain Experiences in History Club
  When a student is asked if they want to join history club, they will most likely turn down the offer, thinking of it as  another history class. However, that is not true in this case,
  History teacher Robert Cousineau talks about the different approach to club meetings.
  "We don't really have regular scheduled meetings, only when there are trips coming up. We communicate solely through email and Twitter with our members. We don't have club meetings and talk about history; it's all about the opportunities to go do things," said Cousineau.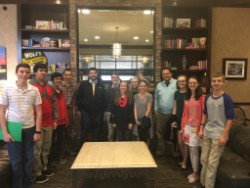 History teacher Andrew Warren explains what the purpose of the club is.
  "The purpose of history club is to offer students an opportunity to deepen their understanding of history and participate in field trip opportunities throughout the year," said Warren.
  There are already some field trips planned for the club's first year.
  "The plan is to do a few trips and to see a couple people locally who are coming to speak in the York County area. There is one coming up next Thursday. We might go hear a historian or journalist that has something to do with history, maybe go tour a battlefield," said Cousineau. "We are planning a big trip for the spring which is going to be to Lancaster to see the show In the Heights. So, just a few trips is our plan for this year, and to get a lot of people involved. Next year, hopefully, we will expand and have more trips."
  Junior Sarah Minacci is a very involved member and hopes that students don't get the wrong idea when they think of a history club.
  "I really hope that people gain more of an appreciation for history with this club and learn that it isn't just random facts, but really a story. I hope the field trips we go on teach everyone more about our history but with a totally new approach that's so much more fun than reading from a textbook," said Minacci. "I want to get a diverse group of kids involved from all grades with a common interest in history. I know history club sounds very boring and a goal is to change the conception that learning more about history is not always boring, and that there are different and fun ways you can go out and actually experience new things involved with history."
  Any student is welcome to join the club at any time.
  "All they need to do is email Mr. Warren or I, or come see us. Then we'll put them on the list, and they'll start getting notifications from us about upcoming opportunities," said Cousineau.
  There is an informational meeting for anyone who is curious about the club and to talk about the field trip to see a speaker, which is Thursday. 
About the Writer
Grace Gorham, Contributing Writer
Senior Grace Gorham is a contributing writer for the Courier this year. Outside of school, she rides horses competitively. In her free time, she enjoys...