Students Announce Date of Mini-THON
  Susquehannock High School decided to adopt Mini-THON and join more than 70,000 students in a movement to conquer childhood cancer.
  This school year, Mini-THON will be held on Friday, March 10 from 12:00-6:00 pm at the high school.
  With over 16,000 kids being diagnosed in the United States every year, childhood cancer is the leading disease killer of adolescents. To combat this issue, Four Diamonds raises money to support 70 pediatric professionals who research oncology to learn about how cancer forms and what ways it can be treated.
  Last school year, juniors Lacey Walker, Kari Cox, Michael Torbert, Danielle Simpson and Kaleb Fair had ambitions to bring Mini-THON back to the school district after it had been stopped from being held at the middle school a few years ago. To plan the dance, these students are leaders for different committees such as fundraising and public relations.
  Junior Michael Torbert decided to help start up Mini-THON again in the district because of what Four Diamonds stands for and experiencing its success in the middle school first-hand.
  "Doing it in middle school was one of my favorite things from those two years. Not only was it loads of fun, but it leads to quality, good change. Four Diamonds is one of the best charities that we can work for and to bring that opportunity back to our school is possibly the thing I will be most proudest of after I graduate," said Torbert. "Also, because I don't play actual sports, making our school a better place and bringing opportunities to our school is my sport, so it's enjoyable for me to put in hours of work into something and be able to share it with everyone in our school."
  Throughout the course of the school year, different fundraising events will be taking place to raise money for the Four Diamonds fund. The first of which is a flocking fundraiser.
  This fundraiser is taking place the week of November 14 and is a spoof off of the practical joke where plastic flamingos are placed all over a person's lawn. Instead of flamingos, students will have the chance to "flock" their teacher's classrooms with $1.00 Warrior head magnets in hopes to cause instruction disruptions. Any teacher in the district can be "flocked."
  Social Studies teacher Heather Schoemaker chose to serve as an adviser for Mini-THON because of  THON's positive message.
"My family has been personally impacted by cancer, and this organization helps family members and cancer patients by relieving them of some of their medical costs, and it also helps to find a cure for childhood cancer," said Schoemaker.  "I got to see the Mini-THON also run by Mrs. McCusker and Mr. Tierney at SMS, and the motivation these kids had to raise the funds was astounding.  It is a great way to have fun, but at the same time knowing that we all can make a difference with the money raised for the Susky Mini-THON."
  Overall, Fair is thrilled to see the outcome that Mini-THON will have on the district.
  "I'm excited because it's our first large fundraiser, and it'll be interesting to see everyone's response to it," said Fair.
  Interested in taking part of Mini-THON at Susquehannock? Click here to register: ://fourdiamonds.donordrive.com/index.cfm?fuseaction=donorDrive.event&eventID=1497
About the Contributor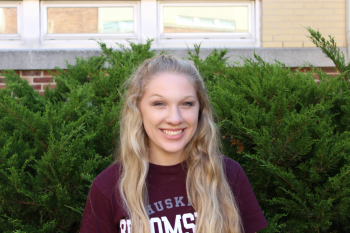 Logan Garvey, Editor-in-Chief
Senior Logan Garvey, a third-year Courier reporter, is editor-in-chief of the publication. At Susquehannock, Logan is also a part of the cast and crew...