Grey's Anatomy Airs New Season
Time to scrub in, season thirteen of Grey's Anatomy has begun.
The season twelve finale was intense to say the least-from Amelia ditching her wedding and then coming back to Warren giving April Kepner a c-section on Meredith's dining room table with no anesthetic. Ouch.
Let's not forget, Jo announced to DeLuca that she couldn't marry Alex because she was in fact, already married. Jo's past has never been a secret, but this was definitely shocking to hear.
Of course, Karev walks in at the worst time. DeLuca is helping get home safely but accidentally falls on top of her, and Karev enters and assumes DeLuca is hurting her. Alex becomes furious and starts to attack the innocent intern. When Jo goes to visit him in the hospital, she completely ignores the fact that his career as a surgeon is probably over, but instead makes him promise not to tell anyone her secret.
The secret love affair between Riggs and Meredith continues, but less of a love affair and more like Mer playing hard to get. Riggs wants to be with Meredith, but Meredith refuses and pushes him away. Fans want to know if it is because of her half sister's attraction towards him or the fact that she is still not over McDreamy.
Maggie asks out Riggs, but he gently lets her down.
Geometry teacher Kelly Fitzpatrick definitely prefers Riggs and Grey over Riggs and Pierce.
"You didn't think Meredith was going to find anyone else. I think he is a good fit, but I don't like that they both like him! It stresses me out because I like Meredith and Maggie's relationship," said Fitzpatrick.
Well, one of the only good things to come from this episode is that Warren and Bailey are finally back on good terms. After Kepner's c-section, Miranda's faith in Ben as a surgeon and her husband was thankfully restored. April and her baby make an appearance in the episode, and they are both perfectly healthy. April tells her ex mother-in-law, Catherine, that her and Jackson decided to name their baby Harriet. Grey's Anatomy fans were thrilled that Jackson and April's second baby was healthy, compared to their first child, Samuel, who was born with osteogenesis imperfecta II. Osteogenesis imperfecta, otherwise known as OI, is a genetic disorder that prevents the body from having strong bones. Samuel lived for no more than an hour after he was born.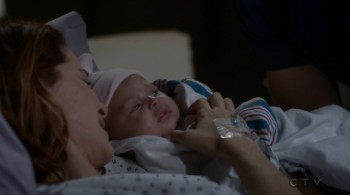 Freshman Jules Skuba weighs in on the relationship between Amelia and Owen.
"I hope that the marriage between Amelia and Owen sticks, but I'm not sure they will; they have an odd relationship. And of course, nothing compares to Christina and Owen," said Skuba.
The newly weds have a small house warming party. Jo and Alex talk, well argue, and Alex realizes that Jo is on DeLuca's side. When Arizona finally enters during episode three, she yells at Karev for his actions, and she comforts DeLuca. Finding out Jo is sided with Andrew is a surprise because Alex fought him in her defense.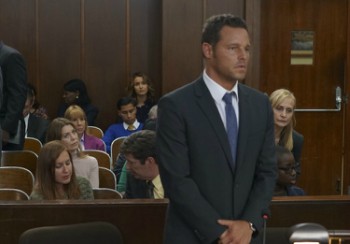 Feelings about season thirteen are very mixed, according to freshman Maddie Marzullo.
"I like the current season, definitely not my favorite but still very interesting. I miss the old characters on the show and wish more of them were back in the show," said Marzullo. Grey's Anatomy airs Thursdays on ABC.