Susky Plans Events for Homecoming
  Girls are frantically looking for the perfect dress and matching heels, planning how they to do their hair and nails.
People are kicking into high-gear with school spirit at football games.
Homecoming. This season can be an especially hectic time for everyone with school and extracurricular activities, so here are the highlights for homecoming week.
Homecoming
This year's homecoming theme "A Night Beneath the Sea," and the dance will take place October 15 from 7:00 p.m.-10:00 p.m. in the main gym. Tickets are $15 and will be on sale in lunches starting October 4.
Movie Night
Bring a friend or two to see Zootopia on October 11 at 6:30 pm. The movie will be shown in the main gym, and tickets are $1. Sophomore Angelica Hunt enjoyed last year's movie night. "We had Ferris Bueller's Day Off, and that was a pretty cool movie," said Hunt. "A lot of people could relate to it… it was just really fun because it was at night and everybody was together…it was just a great time."
Football Game
The Homecoming football game will take place on October 14 at 7:00 pm against East York. The theme for spirit night is red and white.
Hypnotist
  Marshal Manlove, the hypnotist, will be joining us for the second year in a row on October 14 from 5:00-6:00 p.m. before the Homecoming Football Game. Junior Erin Kaliszak really enjoyed taking part in the hypnotist show. "Last year I remember everyone went up onstage and got hypnotized. Once they came off they  didn't know what happened," said Kaliszak. "But once everyone went to the football game and was talking about it everyone else wished they would have came to see what had happened… so we're hoping we get a bigger audience this year because of what happened last year. Also more people will be able to get hypnotized too, and they'll get to see what they heard about last year."
Powder Puff
The Powder Puff game will take place on the football field Wednesday, October  12 at 7:00 p.m.
Spirit Week
Taking place October 11-14, the spirit days are as follows:
Tuesday: Camo Day
Wednesday: Superhero Day
Thursday: Hawaiian Day 
Friday: Red&White Day
Class Competitions
Classes will have the chance to compete with each other in a ticket competition. Whichever grade gets the highest score for tickets to the different homecoming events gets Chick-fil-A coupons.
  Student Council adviser Tom Laure is excited to see the hard work of student council pay off in the end.
  "I think just seeing all the work that council folks have put in to the event, whether it's the pep rally or the movie night or the hypnotist or the dance [is what I'm looking forward to]," said Laure. "Just seeing 600 plus kids take advantage of the opportunity that student council put together for them."
For more information on what's happening with homecoming events,  see business teacher Kellin McCullough in room 207 or  Tom Laure in room 208. 
About the Writer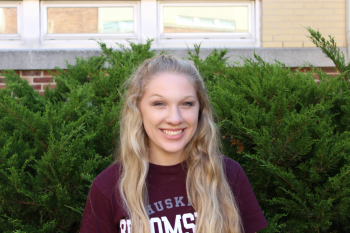 Logan Garvey, Editor-in-Chief
Senior Logan Garvey, a third-year Courier reporter, is editor-in-chief of the publication. At Susquehannock, Logan is also a part of the cast and crew...