Aevidum Club Sets Big Goals
By Grace Gorham, Contributing Writer
October 5, 2016|129 Views
New goals and big plans are in effect for the Aevidum club this year.
  The club had its first meeting on Friday, September 23.  
  Aevidum member and freshman Caroline Fox took away a lot of goals at the first meeting.
  "We discussed different ways that we could make the students at our school aware of Aevidum. Some of these ideas were different fundraising events as well as other activities for teachers and students to participate in," said Fox.
  History teacher and club adviser Andrew Warren said that their main objective this year is to get more of the school involved.
  "Our overall goal is to create a positive and healthy environment at Susquehannock… to raise awareness among students about issues that impact them as well as their friends," said Warren.
  Many of the plans for this year incorporate their main goal of getting more students involved.
  "We plan on collaborating with other groups such as Student Council and Link Crew to plan activities throughout the school year," Warren said.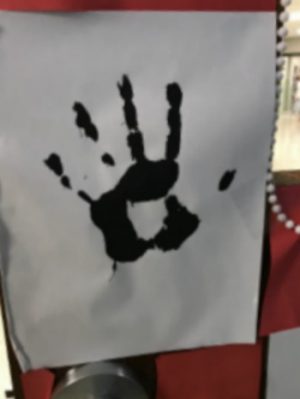 Hand prints are often a symbol of Aevidum.
  Sophomore Jessica Fox, who is heavily involved with Aevidum at school and on a program wide committee, shares some of the ideas and plans that she is excited about.
  "We have many ideas for this upcoming year that we will be putting into action for our "Aevidum Blitz." Fun activities and fundraisers are in the works. This year I am looking forward to being able to collaborate with all of the new members. Attendance has increased, nearly doubling from last year. Everyone is very enthusiastic about spreading the club throughout the school," said Fox. "I am most excited about the activities we are planning. I will not go into detail, although they are very fun and student oriented. I guess I could say that there will be some aspects of "teacher embarrassment" if all goes according to plan."
  Last year, Aevidum had multiple big projects that turned out to be a success.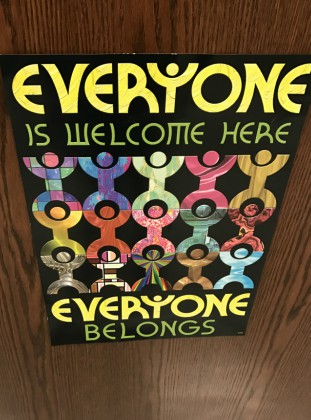 The message that Aevidum is trying to convey.
  "At the middle school, a success was the creation of the Aevidum Closet, which includes second hand clothing and toiletry items for students that were in need. At the high school, a success was the positive post-it notes campaign, which was meant to spread empowering and positive messages to peers. Aevidum was also involved in bringing Rohan Murphy, a motivational speaker, to Susky to talk to high school and middle school students," said Warren. "We plan to continue more events like that throughout the year."
  An improvement that they want to make from last year is definitely getting the whole school more involved with the club.
  "Aevidum is looking to improve because last year there were many ideas to make students more aware of Aevidum; however, the club had trouble executing those plans. This year Aevidum hopes to do a better job with the execution of those plans," Caroline Fox explained.
  Jessica Fox also shared some of the same improvements that the club plans to make this year.
  "We are primarily going to be taking action. Last year we had many good ideas, although almost none of them were carried out. In addition to that, we will be doing our best to make teachers aware of the Aevidum club as a whole and the positive message we are promoting," Fox said. "Our goal is to have the Aevidum club become as prominent as Student Council or Link Crew. Many students are very enthusiastic in terms of joining both of this extra curricular, so we strive to make Aevidum the same way."
  Aevidum meetings take place every Friday at 7 am in Warren's room.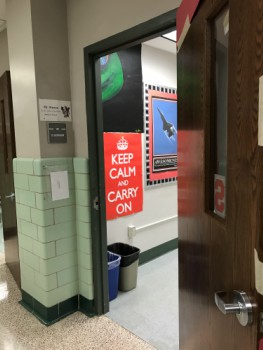 Warren's room, where meetings are held.
About the Writer
Grace Gorham, Contributing Writer
Senior Grace Gorham is a contributing writer for the Courier this year. Outside of school, she rides horses competitively. In her free time, she enjoys...