Get Involved with the Action at SHS
Getting involved during school can be a struggle for some. Students may not know when a club is meeting next or how to get involved. To fix this issue, here are some updates on clubs that are currently meeting and are open to having people join them:
Aevidum
Aevidum's goal is to develop a positive and healthy environment at the high school and to also promote the qualities of accepting, appreciating, acknowledging and caring for others. The next meeting for Aevidum is this Friday, September 30 from 7-7:45a.m. in Mr. Warren's room.
National Honor Society
Currently accepting forms from juniors who follow the following requirements: http://issuu.com/thesusquehannockcourier/docs/nhs_eligibility/1?e=19239496/30395598
Creative Writing Club
This club is a place where students can let their creative side of themselves show. Students can write anything from poems to stories. The Creative Writing Club will today, September 26 after school from 3-3:45 pm.
Stage Crew
Have you always been interested in sound, lights or building sets but didn't know how to get involved? Well, now's your chance! Crew for the fall play,  Peter and the Starcatcher, is currently accepting anyone interested in these things, as well as painting and costuming. For more information, go to susquehannocktheatre.com, and look under the cast/crew area to see when crew meets next. Set construction meets normally on Saturdays and Sundays.
Theatre
Interested in acting but missed the time to audition for the play? No need to fret. The theater department will be holding acting workshops every Thursday in the auditorium from 6:30pm-8pm. For more information,  go to susquehannocktheatre.com .
Best Buds
This club is looking for students who have the potential to be positive role models for their peers. Best Buds is looking for individuals who are open to creating strong friendships.
Fellowship of Christian Athletes (FCA)
The purpose of FCA is to be a meeting place for Christian students who serve Him in their relationships and in the fellowship of the church. The group meets Wednesday mornings in Mr. Truscott's room.
Forensics Club
Meetings are every Monday in Mr. Cousineau's room, but due to the scrimmage against Dallastown today, there will be an optional meeting on Wednesday.
Literary Magazine
Lit Mag is a student-run organization that publishes artwork, photography, stories and poems by students. A meeting is on Wednesday after school. Contact Hannah Naylor for more information.
About the Writer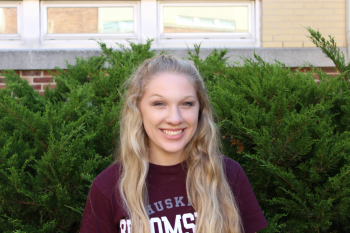 Logan Garvey, Editor-in-Chief
Senior Logan Garvey, a third-year Courier reporter, is editor-in-chief of the publication. At Susquehannock, Logan is also a part of the cast and crew...