Brooke Weber Named 2016's Salutatorian
By Grace Burns, Assistant Editor-in-Chief
May 11, 2016|351 Views
  All eyes focus on senior Brooke Weber as she belts out a melodious solo on stage.  The audience erupts into applause, but this time, the spotlight continues to shine on her.
  Weber, this year's salutatorian, earned the prestigious title through her hard work and dedication to her studies.  
  Balancing four AP courses and a number of extracurricular activities during her senior year while still maintaining an exemplary academic record, Weber has proven how much she deserves this honor.
  Since the start of her educational career, Weber has demonstrated her drive to succeed.  As a child, Weber largely enjoyed reading and singing, two hobbies that she continues to be passionate about.  With the support of her parents, who work in the educational field, and her close-knit group of friends, Weber has strived to be the best that she can be throughout her life.  
  English teacher Katharine Wilt taught Weber in AP English and Literature this year, and she commends her unwavering determination.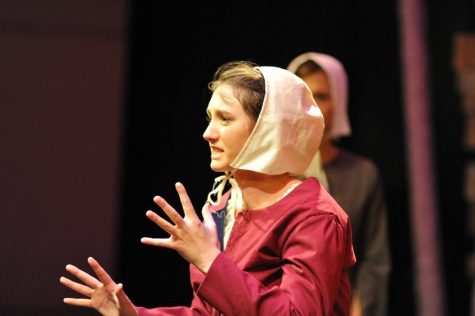 "She wants to put in a good effort no matter what the assignment," said Wilt.  "Her drive is apparent in everything she does from schoolwork to extracurriculars."
  Apart from devoting herself to her studies, Weber is also an active participant in the writing center, orchestra and theatre.  
  Since Phantom of the Opera in 2013, Weber has been an integral member of theatre, eventually becoming a leading actress and Vice President of the ITS Troupe #4088.  Some of her other roles include Kim MacAfee in Bye, Bye, Birdie, Pamela in The 39 Steps and Mrs. Banks in Mary Poppins.  Most recently, Weber starred as Catherine in this year's spring musical, Pippin.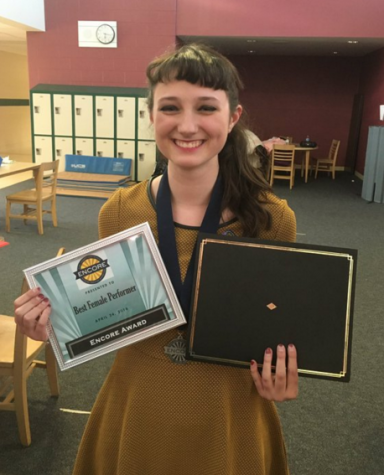 Perhaps what Weber has most enjoyed about participating in theatre throughout her years is being a role model for incoming participants.
  "[I enjoyed] getting to know all of the people doing it for the first time and welcoming them into theatre," said Weber.  "When I was a freshman especially, I feel like there weren't too many upperclassmen that were friendly, so I wanted to be somebody encouraging for them to come to."
  Junior Addie Achterberg has been friends with Weber for three years and is going to miss Weber's constant compassion.
  "[I'll miss] talking to her and the fact that she actually cares about her friends and me," said Achterberg.
  Planning to take her writing skills to the next level, Weber will attend Muhlenberg College in Allentown, Pennsylvania starting this upcoming fall.  At Muhlenberg, she plans to major in English and be actively involved in the theatre program.  As of now, Weber strives to become an editor or author in the future.
  Whatever Weber's future holds – whether her name is in print or she is starring in productions – she will excel with an ambitious attitude such as hers.