The Explosion Heard Around The World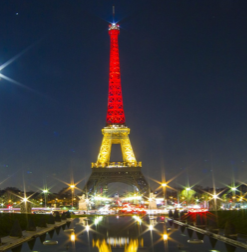 Hang on for a minute...we're trying to find some more stories you might like.
News raced across the world, people were in terror, pure chaos filled the streets, and panic was drawn on the faces of civilians. March 22, 2016 is one day that will haunt the minds of people who lived through the attack on Brussels, Belgium.
This is not the only time the world has seen this; the nation has seen this kind of terror act one too many times, such as 9/11 and the Paris attacks. Brussels is a very busy city with tourist filled streets. To the suicide bombers, a tourist filled area must have seemed like the best destination. According to NBC news, gunfire was heard in a Brussels airport, which caused people to race near the nearest exit. Just 10 seconds later, another explosion went off in the terminal. A second explosion at a nearby metro station also claimed the lives of many.
Only one group is to blame for this horrific act: ISIS. Brothers Khalid
el-Bakraoui and  Ibrahim el-Bakraoui have been identified as suicide bombers. The third bomber has been identified as a suspect in the Paris attacks and is still on the loose.
The attack took a huge toll on people all over the world, but the biggest effect was on the victims and their families. 32 innocent people were killed, and over 90 victims are still being hospitalized for life-threatening injuries. Casualties and wounds came from all over like, the US, Peru, France, Germany, Spain and Britain. These people were most likely tourists using the everyday transportation in Belgium, said BBC news.
As for Belgium's citizens, they are not alone. The whole world has taken part in standing up for them. Paris paid its respect by proudly lighting up the Eiffel Tower red and yellow for Belgium. Celebrities also showed their admiration for Brussels through social media. Instagram and Twitter were filled with posts showing love for Brussels.
After nearly two weeks, Police have decided to reopen the airport and metro for public use once again. Police are also still continuing the investigation and soon hope to end the terror in their beloved country.
As for the rest of us, we move on in hopes this kind of act will forever end. Everyone standing together strong and not allowing the infliction of fear to get to everyone will hopefully inflict fear upon the terrorist groups themselves.