April's Teacher of the Month: J.C. Lewis
By Grace Burns, Assistant Editor-in-Chief
March 30, 2016|205 Views
While important in his life, graphing calculators, algebra and calculus just scrape the surface of math teacher J.C. Lewis.
  Lewis grew up in Northumberland, Pennsylvania where he became immersed in the educational world early on since his mother was an elementary school teacher, and his dad was a high school principal.  Later, he moved to Gettysburg and attended Gettysburg High School where he was an avid participant in sports; he played football, soccer and basketball and ran track and field.  
Continuing his education at Penn State, Lewis initially planned to pursue architectural engineering, but discarded this plan after gaining more insight from a seminar.  Since teaching presented the opportunity to work with others, apply his strong mathematical skills and become a coach, Lewis decided to pursue a degree in education, which eventually brought him to Susquehannock.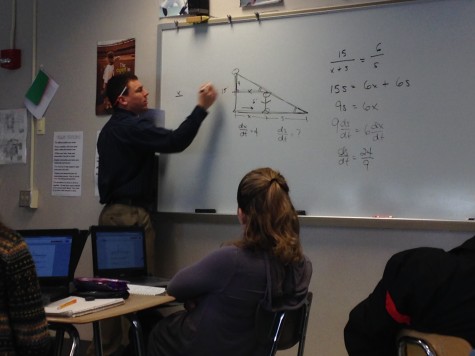 In his nine years of teaching, Lewis has greatly appreciated the rigor and high caliber of work that is demonstrated by those in the building.
  "I like that there are high expectations," said Lewis.  "I feel like I hold a high expectation in my classroom … that's not unique to my room.  It's something that's across the board, which is nice because then it lifts everybody up appropriately."
  Currently, Lewis teaches Algebra I and AP Calculus AB and BC, and students have responded extremely positively to the way he runs his classroom.
  Senior Maddy Staub has taken AP Calculus AB and BC with Lewis and has thoroughly enjoyed his methods of teaching and assisting students.
  "He is willing to sit down and go over things more than once for people that may not be understanding it and to explain it in a way that is easy to understand," said Staub.  "He also provides a lot of time in class to practice and make sure we get the material down."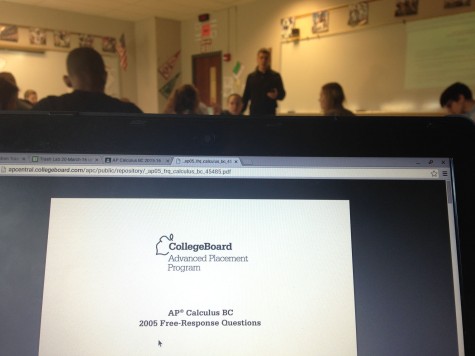 In addition to teaching, Lewis coaches track and field, and many students commend his ability to train students.
  Senior and track member Kayla Bennett praises Lewis's understanding of the sport as well as his compassion for others.
  "It's helpful because he did the events that I did in high school, so he knows from previous experiences," said Bennett. "He's willing to work with people."
  Outside of school, Lewis places a great deal of focus on family.  His wife and Friendship Elementary School kindergarten teacher Allison Lewis, his 3 year old daughter Emma and his soon-to-be 1 year old son Owen are his priorities.  Alongside his family, Lewis enjoys traveling and attending sports games in his free time.
  For Lewis, getting to know his students both inside and outside the classroom makes his job exciting.
  "I enjoy that every year and every day the challenges are always different," said Lewis. "The content stays the same, but every year there's a whole new group and, while you're teaching calculus and algebra, it's a whole other challenge getting to know and figure out everybody… [Students] are much more complex than just math students.  [Their] lives are all-encompassing."