Orchestra Members Harmonize in Chamber Groups
By Grace Burns, Assistant Editor-in-Chief
March 17, 2016
  Filling the ears of the audience with entertaining melodies, members of the string orchestra performed an array of pieces at the Chamber Music concert on Wednesday, March 16 at 7 p.m. at the Zion Lutheran Church.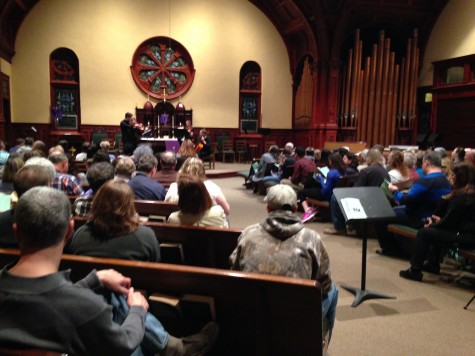 Unlike other concerts where the entire orchestra performs together, this concert featured several small, chamber groups playing individually.  In preparation for the concert, students broke into groups consisting of three to eight members and selected the piece they would perform together.  These pieces ranged from "The Best of Green Day" to "Grand Piano" to The Avengers'  "Arrival/Main Theme."  After all of the groups performed, the whole string orchestra and orchestra teacher Zachary Levi joined guest cellist and 2008 Susquehannock alumnus James McGonigle for a final performance of "Concerto for Two Cellos."
  Sophomore Sydney Smith, who played alongside three other members in "Seasons of Love," has been playing the violin since third grade.  Learning new skills was the highlight for Smith as she integrated into a chamber group.
  "It's a new experience," said Smith. "It lets you not depend on other people to know the music."
  Playing in small groups gave individual musicians a chance to showcase their abilities while also collaborating on a chosen piece of music.
  Senior Michella Salvitti has been playing cello for four and a half years and was able to appreciate the unity of her chamber group in its performance of a classic rock medley.
  "Integration was a big deal," said Salvitti. "I thought it was really cool hearing all the separate instruments and how they joined together."
Grace Burns
  Being able to choose their counterparts and music was a freedom that many students thoroughly enjoyed.
  Sophomore Justin Feild, who has been playing the cello for eight years, joined three other members to perform selections of "String Quartet No. 8" and greatly enjoyed the experience of participating in a chamber group.
  "It's really fun to be able to make music with people you're friends with," said Feild.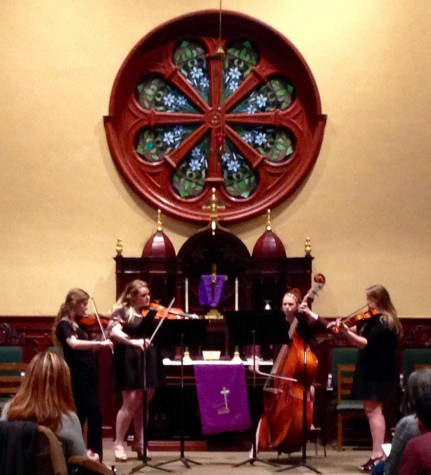 By teaming up to perform a unified piece, members of the orchestra were exposed to a different style of performance where they learned to work in harmony.  
  Still in store for the orchestra is the spring concert on April 20 at 7 p.m. where its members will have the chance to display their skills a final time for the school year.