Kicking Cancer One Color At a Time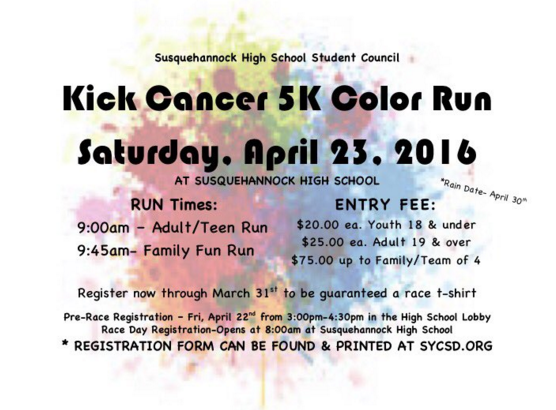 By Grace Burns, Assistant Editor-in-Chief
March 15, 2016
  Bursts of vibrant colors will fill the air on Saturday, April 23 when the Kick Cancer 5K Color Run, hosted by student council, is underway.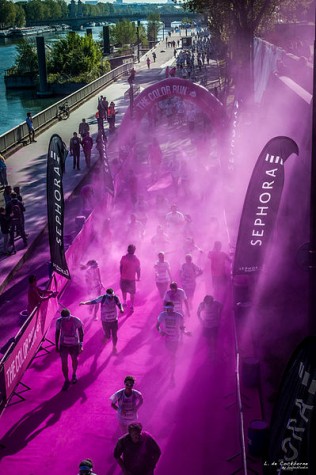 The first annual Color Run will take place during Kick Cancer Week, and all of the money raised will be donated to the American Cancer Society.  All of the participants in the run will make their way around the campus on a modified cross country course, getting sprayed with colorful dye at four different spots along the course.  
  Adults and teens will run at 9:00 a.m., and the Family Fun Run will be held at 9:45 a.m.  For those 18 years and under, the entry fee is $20.00, for adults 19 years and over, the entry fee is $25.00 and for families with up to four members, the fee is $75.00.
  Senior and student council member Emily Landis has been participating in the preparation for the Color Run and is optimistic about the success of the event.
  "I hope to get the whole community involved, especially high schoolers and elementary [students], and raise a lot more money than what we have in the past," said Landis.
  While Student Council has coordinated events like lunch fundraisers and a pep rally for Kick Cancer Week in the past, its members decided to host a new event that would generate even more participation in addition to the past events.  
  Senior and vice president of student council Maggie Kaliszak encourages students to take part in the run because it facilitates school spirit in an exciting way.
  "Students should definitely participate because it's a chance to do a color run at a cheaper price than the actual Color Run," said Kaliszak. "Also, it's a way to get involved in the school and have fun with your friends."
  Taking part in the Color Run is a way to not only show support for a worthwhile cause but also to participate in a new event that is unlike any other fundraiser students and community members have seen before.
  Sophomore and member of Student Council Emma Stiffler is looking forward to getting people involved in the event and fundraising.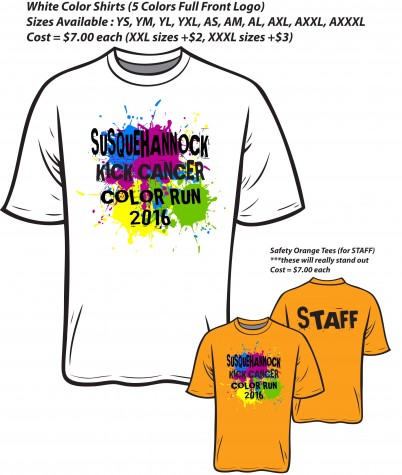 "I think it's a really great opportunity for all students to participate…" said Stiffler. "It'll be good to raise money and donate back to the cause."
  Anyone who registers for the event before March 31 will be guaranteed a race t-shirt.  On Friday, April 22, pre-registration will take place from 3:00 p.m.- 4:30 p.m. in the high school lobby.  On race day, registration opens at 8:00 a.m. at the high school.  A registration form can be found here.