Sportsmanship: The Proud and the Ugly
Courtesy of Pennlive, Break down of the chaos of the wrestling finals
  Susky prides itself on sportsmanship; the wrestling team and the basketball team just received the PIAA Sportsmanship awards.
  Sportsmanship is becoming very hard to find in other schools, despite Susquehannock's high standing reputation, according to Athletic Director Chuck Abbott.
  "Our school is an exception [to] all the other schools. Our kids, our players, our coaches and our fans know our expectations, and I think as individuals, as spectators at our events, we know when we've crossed the line," said Abbott.
  The wrestling team saw several instances of this, both at the Shippensburg match and the Kennard-Dale match, when the fans were, to say the least, insulting, and in some cases outright belligerent. The basketball team also had some issues with this, when fans from Kennard-Dale stormed the court.
  Going beyond our own school, the District 3 Class 3A Team Wrestling Championships saw their own display of poor sportsmanship. During the match for first place, the match devolved into insults.
After Cumberland Valley won the match on H criteria, its coach taunted the Central Dauphin, pushing emotions higher and higher as the criteria dropped lower and lower on the list.
  As bad as all of this is, however, it does beg the question of where the line lies. No one really goes out and says, "I am going to be a poor sportsman," be it the fans or the players, but it is very clear when it is crossed and who crossed it, according to Coach Brad Keeney.
  "I think it is pretty cut and dry… …When you're rooting for your team in a positive way, you're being an appropriate fan," says Keeney.
  Rooting for your team as a good sportsman and fan means only encouraging your team, not yelling insults at the other team. Let the athletes compete, and don't call out the officials. It is truly that simple. It is unfortunate that other schools do not seem to understand this.  
  Abbott agreeably believes it is because it is becoming more and more about winning, not having fun and playing. As big of a deal as it is at the time, it is one game or match or race in your entire high school career. Twenty years down the line, it is not going to matter. The fans and parents build up their kids ego, and then get a hot head when it doesn't go as it should. Let the kids play, sit back and watch. Cheer when they are winning, and encourage them when they aren't.
About the Contributor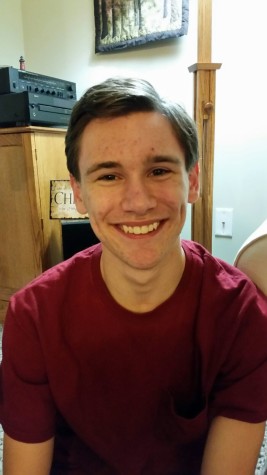 Michael Younkin, Commentary Editor
Senior Michael Younkin, a second-year reporter for the Courier, is the Commentary editor. At Susquehannock, he also runs cross country and wrestles;...