Students Embrace Random Acts of Kindness Day
By Grace Burns, Assistant Editor-in-Chief
February 21, 2016
  Whether by holding a door open or giving a compliment, people can show consideration of each other in the simplest of ways.  The heart-warming messages of National Random Acts of Kindness Day spread throughout the school on Wednesday, February 17 as students and staff incorporated caring words and actions into their day.
  Together, Student Council and Aevidum promoted the day by posting sticky notes with compliments written on them on all of the students' lockers and by creating and distributing compliment index cards that could be passed around.  All throughout the day, students and staff experienced small, yet impactful acts of kindness.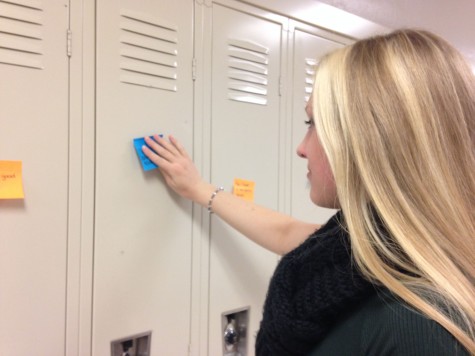 Sophomore Kaleb Fair assisted in the activities for Kindness Day and worked to lift people's spirits.
  "I feel like sometimes people have low self-esteem," said Fair. "I think this is hopefully a way that we can help people empower themselves a little more."
  The positive message that the holiday supports has been well-received worldwide, and various organizations and groups have joined in the celebration.  Recently, Random Acts of Kindness Day has been adopted in New Zealand and celebrated on September 1.  Setting aside a day to make people mindful of the difference a small act can make has proved beneficial for many.
  Freshman and treasurer of Aevidum Jessica Fox emphasizes the significant messages that people can take away from the day.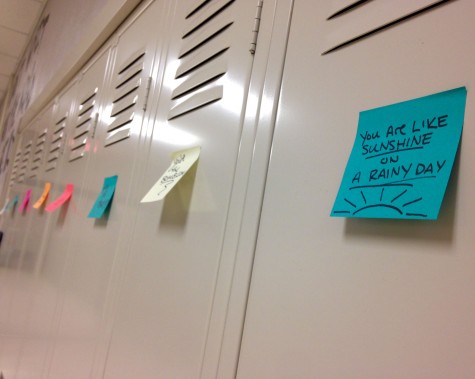 "It's [a day] to spread kindness and positivity," said Fox. "Everyone matters in this world and no one should be left out or forgotten."
  Encouragement of unity and support was a common theme intertwined with the day, and several students embraced the idea.
  Senior and co-head of the committee in charge of Kindness Day Maggie Kaliszak recognizes the importance of spreading compassion in order to bring about joy in people's' lives.
  "[People] don't know the situation that everybody's in, so any kind of kindness towards someone could completely change their day around," said Kaliszak.
  While National Random Acts of Kindness Day presents an opportunity to act with care, incorporating acts of kindness into everyday life can make for an even more rewarding lifestyle.