J&B Grill Pleases Many
Sounds of laughter and joy can be heard while passing by one of Shrewsbury's newest restaurants, J&B Grill.
The recently-opened restaurant has been a hit with locals ever since its first day on December 14, 2015.
After working in the food industry since they were teenagers, co-owners Jodi Huge and Burcin Topuz are elated to finally own a restaurant of their own.  
Hogue explains what they are looking forward to accomplishing with their business.
"[We] just want to keep doing what we're doing [by] making everyone happy," said Hogue. "[We're] waiting for the spring to come so we can make it look nice outside, put some tables outside and more and more people… can come and stay happy."
J&B grill has welcoming and simple decor that creates a relaxed atmosphere. The color scheme of reds and browns, flower centerpieces and paintings add to this laid-back environment.
Although it may seem like a small building from the outside, the interior of the restaurant has a decent amount of seating on the main level, and the building has a second level which is used for parties and large groups.
The service was great because the waitress was very conversational, making sure you always had everything you needed. The servers looked like they were enjoying themselves and were not distracted while speaking to you. Although they were not dressed that formally,  the server's attire helped to add to the easygoing  environment.
Besides the waiters  checking up on customers, the owners of the restaurant also circulate throughout the dining room to make sure everyone is satisfied with the service.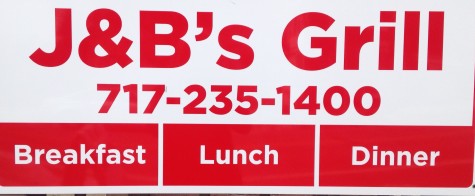 J&B has a very versatile menu, having everything from chipped beef to crab cakes- the two foods that the restaurant is best known for.
The main dishes are quality, and they give you a generous amount of food.
There are only two options for dessert at this restaurant, which may cause some who usually get dessert to not buy it while they are there due to the lack of options.
Most foods are an average price, and the high-quality food definitely makes up for some of the more expensive prices.
One of the few downsides to this restaurant is parking. I went to J&B grill the day after it rained, and their parking lot is dirt for the most part, so it was extremely muddy and more difficult to walk into the restaurant.
In addition, there are very few places to park, which can be a problem when it gets busy.
If you are looking for a new favorite local restaurant to act as your go-to place when eating out, J&B Grill is the place to go.
About the Contributor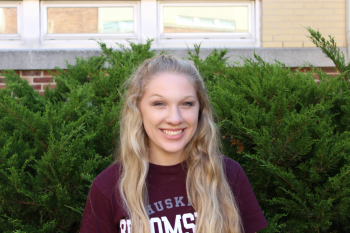 Logan Garvey, Editor-in-Chief
Senior Logan Garvey, a third-year Courier reporter, is editor-in-chief of the publication. At Susquehannock, Logan is also a part of the cast and crew...