Choir Addresses Social Justice
  The choir is preparing to educate the public about many issues prominent to today's culture during their spring concert, which will take place in the auditorium on May 4 at 7 p.m.
  This year, choral director Jay Althouse chose social justice to be the overarching theme of the concert.
  "I just feel like there's a lot of talk in the news about different types of groups that are being marginalized," said Althouse. "It's an important topic for me personally about finding justice for people that don't always have a voice for themselves or being trampled on when they're just being who they are and that's wrong."
  Pieces in the concert will cover a variety of topics, including discrimination in race and class, as well as many other hot button issues.
  "Do You Hear the People Sing" from Les Misérables, "Inscription of Hope" by Z. Randall Stroope, "21 Guns" from American Idiot and "Imagine" by John Lennon are just a few of the many critically acclaimed songs that will be performed during the concert.
  Freshman Cora Dunaja feels that she can really relate to the piece "Inscription of Hope."
"I like it because that's what I'm kind of going through right now because of school, drama and grades," said Dunaja. "[I learned] that [you should have] hope and you shouldn't be getting revenge on people."
  "Inscription of Hope" is unlike any other song that the choir will perform at the concert due to there being a person signing the lyrics to the song alongside the choir with American sign language. This song is also one-of-a-kind because parts of the lyrics were written on a cellar wall by a Jewish girl during the Holocaust.
  Althouse believes that sign language will be a great accompaniment to the piece.
  "It's such a sweet message and just a beautiful song… I can just see a lady or a man sitting in the corner doing sign language with us," said Althouse. "I feel like that would be like putting the audience over the top emotionally and that's what we want. We want an emotional response."
  "Make Them Hear You" by Ragtime is also a song that concentrates on trying to bring inequality to the attention of the public.
  Junior Rachel Sergent thinks that the piece is enlightening.
  "It's really pretty," said Sergent. "I think it's a good piece because it informs people about the disparity between races."
  Out of all the pieces that are being performed, Althouse is most excited for "21 Guns" and "Inscription of Hope."
  "I'm really excited about '21 Guns' because if we get student population to our concert… the students will love it because it's rock music and it's from Green Day so people that might know Green Day will like it," said Althouse. "I'm also really excited about the more gentle pieces like 'Inscription of Hope' because it's a beautiful piece."
  The middle school, orchestra and band will also be incorporated into this concert – from a full orchestra to a rock band that will play during "21 Guns".
  Because these are such crucial topics in today's society, Althouse hopes that everyone who attends the concert will take home with them an important message.
  "Respect everyone, love everyone and try to understand the differences in this world," said Althouse. "I don't care if they're a different gender, class, race or sexual orientation than you…we're all just human so we need to learn how to get along."
About the Writer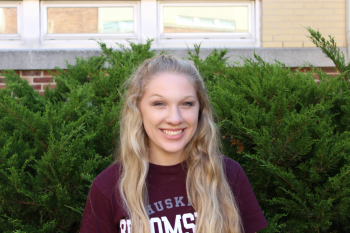 Logan Garvey, Editor-in-Chief
Senior Logan Garvey, a third-year Courier reporter, is editor-in-chief of the publication. At Susquehannock, Logan is also a part of the cast and crew...