'Hamilton' on Broadway is a Historic Triumph
By Grace Burns, Assistant Editor-in-Chief
January 11, 2016
  With a fresh take on the traditional Broadway show, Hamilton, the acclaimed musical written by and starring Lin-Manuel Miranda, has audiences buzzing about the life of one of America's founding fathers.
  Directed by Thomas Kail, the musical features a perhaps unexpected mixture of rapping and traditional melodies intertwined with an interactive timeline of the life of Alexander Hamilton.  
  Senior Maggie Kaliszak saw the show on December 5 and was entranced by the performance.
  "My favorite part was the cool dance during the duel battle," said Kaliszak. "[Because it's a] rap musical, [audiences] are drawn in."
  From an orphan to a celebrated war hero who accomplished great feats for the American economy, Hamilton clearly had a story to be told.  The plot of the musical follows Hamilton's  relationships with friend and foe Aaron Burr, wife Eliza Hamilton, George Washington and Thomas Jefferson as he works his way up the social and political ladders only to become part of a devastating scandal.  
  Miranda dedicated six years of writing and composing to the creation of the show, which opened on Broadway on August 6, 2015.  Miranda gained inspiration for the musical from Ron Chernow's biography of Hamilton, Alexander Hamilton, which was published in 2004.  Actors and actresses of various ethnicities portray America's historical men.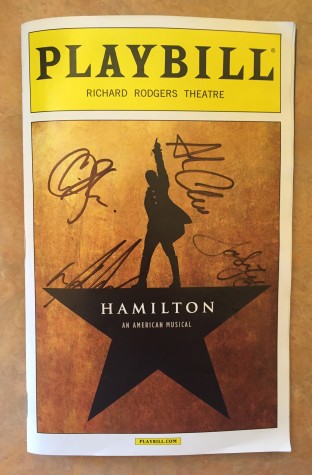 Senior Brigit Duffy praises the writing, production and especially casting of the musical as she views it as a true triumph in American theater.
  "It is so cool to think that minorities are playing our founding fathers because our country has turned from being primarily Englishmen to a lot of minorities," said Duffy. "It's an awesome way to celebrate how America is now."
  Audiences have been applauding the memorable songs that propel the narrative.
  Junior Mackenzie Marzullo, who also had the opportunity to see the show alongside Kaliszak on December 5, continues to commend the nature of the show.  
  "The music is really good," said Marzullo. "It shows history in an interesting way that's easy to follow."
  Transporting audiences back to the late 18th century with a modern spin, Hamilton has already gained widespread esteem and looks to continue its climb.  Tickets and more information can be found here.