Let the 'Pin' Begin
Last year's match against York Suburban from Gametimelive PA and Gametime Live PA Live Stream
   Wrestling rooms all over the country opened their doors on November 16, and  Susquehannock is working hard to go even farther than it did last year.
   Over the last two seasons, the Warrior wrestling team has come from a no-win season to finishing last season with 13 wins and 8 losses, giving Susky an over-500 record. This is a huge comeback, and this year the team hopes to go even higher.
  One match that the team is particularly hungry to win is against York Suburban, which last year ended in a tied score, but was decided as a York Suburban victory when it came down to the 8th criteria for deciding a tie.
The 8th criteria is when the team having the greater number (total match points) of first-point(s) scored is declared the winner, according to the National Federation of State High School Associations Wrestling Rules Book 2013-14.
The team is looking forward to settling the score this year at home.
  Of the three other home matches, another big one to look forward to is Kennard Dale, which is another historically big team to beat.
  This year, the team has had a sharp increase in the number of coaches helping out in the room, which Coach Brad Keeney looks forward to.
  "We are [going to] have a lot more coaches this year, so we will be able to individualize practice a little more," said Keeney.
  This year, the team has numerous younger members. In particular, sophomore Joey Romjue is looking forward to the wrestling season, after taking only 9 losses during the entire season his freshman year. In particular, he is looking forward to the Gettysburg match.
  "I'm looking forward to Gettysburg this year. I need revenge. I lost there last year," said Romjue.
  The team does, however have a bit of work cut out for it as one of the seniors on the team, senior R.J. Myers is currently unable to wrestle. Myers suffered an injury early in the season during football and has still not fully recovered, but is mending quickly. He hopes to be on the mat as soon as he can.
  In the meantime, however, he is still doing everything he can to help the team.
  "I'll probably be doing more of a role as a manager, but also as soon as I can get my finger fixed, I will definitely be in practice," said Myers.
  As the first few weeks of practice have come and gone, the team is still growing, and in the last week has gained two new members. The entire team is hungry for a match, though, as their first match approaches at home against Gettysburg on December 16 at 7:00 PM.
About the Contributor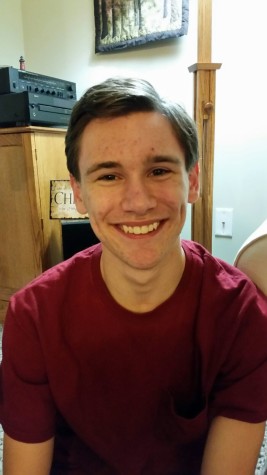 Michael Younkin, Commentary Editor
Senior Michael Younkin, a second-year reporter for the Courier, is the Commentary editor. At Susquehannock, he also runs cross country and wrestles;...