Big Buddy Builds Friendships
  The Big Buddy program kicked off by preparing high school students in a training session the week of November 8.
  At the training session, Southern Elementary School guidance counselor Michelle Brengle gave students a tour of S.E.S. and explained the objectives of the program.
  The goal of the Big Buddy program is for high school students to help elementary children who may be in need of extra support for reasons associated with their home or school environment.
  High school students will be able to provide children with an opportunity to create a friendship with a positive role model, and the teenagers will also give them assistance with personal, social and academic problems during the school year.
  During each meeting with their "little buddy," students have the choice to spend time with their child in the library, lobby, gym, computer lab, or the playground by playing games and assisting them with their schoolwork.
   Senior Katie Wilson says that her "little buddy" last year really liked playing outside on the playground and playing board games.  
  This will be Wilson's second year taking part in the program, and she says that her child last year was very kind.
  "She was really nice," said Wilson. "She liked getting special attention and playing games and having special time with someone."
  In order to be a Big Buddy, students must have a GPA of at least 2.0, and have to have good attendance and citizenship.
  Fortunately, junior Brooke Morris meets these requirements and is excited to be a part of Big Buddy.
  "[I wanted to join Big Buddy because] when I read the paper it seemed like something fun to do and those kids need help," said Morris.  
  Overall, both elementary and high school students are looking forward to meeting their buddy, and can't wait to see what this school year has in store for them.
About the Writer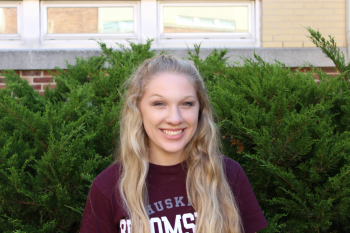 Logan Garvey, Editor-in-Chief
Senior Logan Garvey, a third-year Courier reporter, is editor-in-chief of the publication. At Susquehannock, Logan is also a part of the cast and crew...