JV Soccer Remains on Top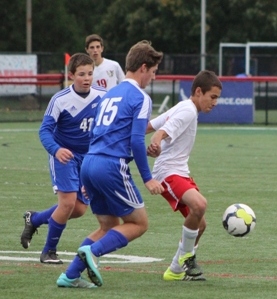 Hang on for a minute...we're trying to find some more stories you might like.
In a complete 5 to nil shutout on Saturday afternoon, the boys Junior Varsity soccer team clinched their tenth victory of the season against Kennard-Dale.
  Head coach Brett Maxwell couldn't be happier with how smoothly the season seems to be going so far. Just before Saturday's game, he described the team's strong start to the year.
  "JV's having an outstanding season," Maxwell said. "They're undefeated; they have…9 wins and 2 ties overall."
  According to Maxwell, the JV team has already defeated Kennard-Dale this season in a 5 to 1 win, and though Saturday's game would indeed be challenging, he predicted a successful day if the boys arrived ready to play.
  "We've had really strong practices at JV level, [and we're] really pushing some of the Varsity guys to really deprogram this year, so…[they've] been working hard at practices…we're deep," said Maxwell. "We've got a lot of quality players, so it's competitive for playing time and that makes [our] preparation that much stronger."
 A small but dedicated audience came out in the harsh cold and drizzle to cheer on the Junior Varsity team.
  Though the game started out indecisively, the ball was in Warrior possession nearly the whole first half, with players like sophomores Jack Holloway, Brendan Wilson, and Adam Rebich taking control of the ball. By halftime, two goals had been scored, one in the last 31 seconds of playing time.
  The halftime talk given by the coaches gave the team a new wind for the second half, according to Rebich.
  "We didn't have a practice yesterday, which kind of lead to the slow start, but after our halftime talk, we were more mentally prepared," said Rebich.
 Prepared indeed – the second half assured victory for the Warriors, with athletes taking endless shots at Kennard-Dale's goal and passing with the confidence of a well-practiced team. Though junior Joe Lippy was injured about halfway through, the team pushed through to take the win.
  In the last five minutes of the game, three goals were scored: two were offensive goals by the Warriors, but one was scored by Kennard-Dale. None, however, were more powerful than the last-ditch attempt by freshman David Muriel-Diaz to take the score to 5 to nothing – he scored a dramatic goal in the last three seconds of gameplay.
  Muriel-Diaz described how he felt the win would affect the rest of the season.
  "We are undefeated…and [now we're] keeping that status," said Muriel-Diaz.
 Rebich gave an essential summary of the game in a few concise words.
  "We started slow, but we picked it up and came together for the win in the end," Rebich said.
  Looking forward to the rest of the season, Maxwell anticipates a high rate of success when it comes to the JV team.
  "At the JV level, it's really developmental, so we're really looking for the kids to step up and by the end of the season be playing at a Varsity or what we could consider Varsity level of play, because these are gonna be the guys that are gonna be coming in next year and a couple of years from now and playing at the varsity level," said Maxwell. "In terms of results…at this point we're undefeated, so it'd be nice to finish that out…we've only let up four goals, so if we could keep that under five for the season that would be amazing. 17 games and five goals would be pretty impressive."
  The next JV boys' soccer game will be held on Tuesday, October 6th, at 5:30 PM at West York Area High/Middle School.