Debate Club Prepares for their First Competition
Hang on for a minute...we're trying to find some more stories you might like.
Working harder than ever, the debate club has been figuring out how to prepare for its first competition in 6 weeks at Dallastown.
Debate club advisor Robert Cousineau recognizes the challenge but certainly believes the students can do it.
"It usually takes new members 5 to 6 months to prepare for a debate, and for existing members, it takes about 3 or 4 months," Cousineau said. "The competition is going to be in 6 weeks, so we started right away in preparing for the competition. It's going to be a challenge."
The members of the club have been working together to create outlines, conduct research, and prepare an argument.
Junior Emily Hellwig, who helped create the club, has been a part of these processes.
"Right now… [we are researching] about adolescents making choices regarding health care," Hellwig explained.
The debate club approaches a variety of topics, including some informal ones, but for the most part, they debate the topics that are chosen by a committee.
"For the more formal topics that we actually debate in the competitions, [they] are chosen by…The National Forensics Committee," Cousineau said. "They change them up one or more times a year, so the whole country is preparing for the exact same topic."
This club has been helpful for students who have wanted to improve upon their debating skills, according to Cousineau.
"They start out with really not knowing anything on what to do and though it seems like a very slow process, a couple of months down the road, they can come up with some really impressive arguments that they express in their debates," Cousineau said. "I love seeing that development and how much they learn and how much content they're able to obtain from the research."
Any student interested in joining the debate club can go to the meetings on Monday from 3:00 p.m. until 4:30 p.m. in room 109.
"I think if a student is generally interested in arguing and debating some controversial issues or issues confronting our society or world today…then it's probably a good club to join," Cousineau said. "If they are looking to improve their public speaking skills, or just be a part of something where yes, we're going to work hard but we're also going to really bond together and become more informed citizens of our country."
Junior Jessica McDonald hopes many people will join and has high hopes for the future of the debate club.
"Hopefully it will continue on, and they will be more successful in competitions and become stronger debaters," McDonald said.
The debate club's first competition will be on October 31 in Dallastown.

About the Writer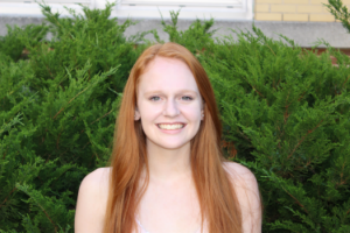 Emily Rivers, Assistant Editor-in-Chief
Senior Emily Rivers has been on the Courier staff for two years. As well as being involved in the school's news website, she is a member of the yearbook production staff, National Honor Society, orchestra and choir. Outside of school, she is an active member of her church, Shrewsbury Assembly of God. She hopes to major in public relations in college and become an event planner.