Choir Endeavors into the Unknown
By Logan Garvey, Editor-in-Chief
September 16, 2015|201 Views
  Expanding its horizons and trying something new, the choir is straying from the classical music its members are used to and is now singing music from Broadway.
  Senior Kane Thomas likes that the choir is exploring different genres of music.
  "I think it's really cool because it's something different," said Thomas. "It seems like we do a bit more of classical [music], but this year we're starting to go into musical type stuff and it's just more fun."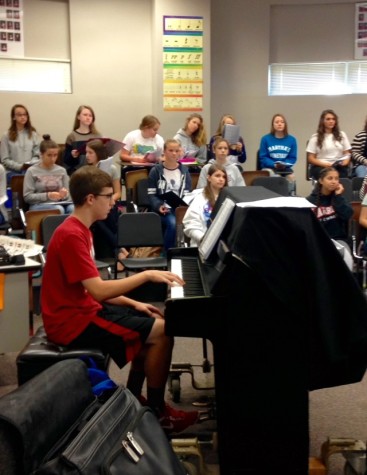 Some of the pieces that the choir is singing include "For Good" from Wicked, "One Day More" from Les Misérables, "Sunday" from Sunday in the Park with George, and a medley of music from Seussical the Musical.  
  Out of all the pieces they have learned thus far in preparation for the concert, junior Lina Waterstradt likes the collection of music from Seussical the Musical the most.
  "I have to say the Seussical one [is my favorite because] it's very long and has a mish-mash of all different songs," said Waterstradt. "It's really different and exciting."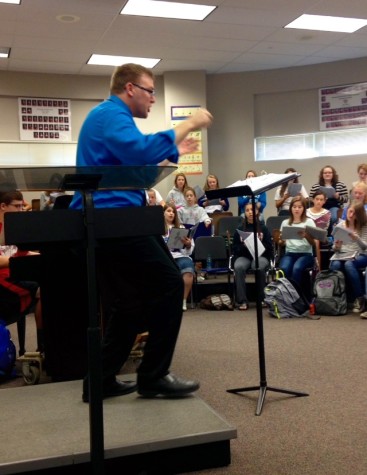 Although the forty-seven-page Seussical the Musical is considerably longer than the other pieces the choir is learning, choir director Jay Althouse thinks the choir is grasping the concept of the music fast.
  "So far I would say that they're really enjoying it. I think we're off to the best start," said Althouse. "We are learning songs the quickest we ever have. We just did a whole run-through of the forty-seven page Seussical medley, and it's three weeks before our concert, so we're doing really well."
Instead of the usual auditorium setting, the concert will be held in the school's cafeteria. Althouse says that by having it in the cafeteria, it will create a more easygoing environment where coffee and desserts can be served in a more casual and cafe kind of setting.
  As a whole, the choir is excited to learn about a different style of music and looks forward to showing others what they are capable of when they perform at their concert on Wednesday, October 7 at 7:00 pm.
About the Contributor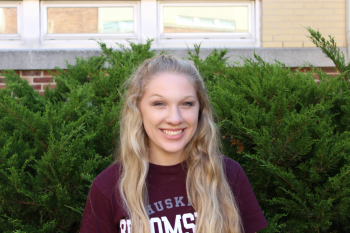 Logan Garvey, Editor-in-Chief
Senior Logan Garvey, a third-year Courier reporter, is editor-in-chief of the publication. At Susquehannock, Logan is also a part of the cast and crew...