Theater Prepares for Fall Play
  Straying from the comical norm with a dramatic play, the theater department kicks off the new school year by trying something different.
  After many comedic and jubilant shows, including Mary Poppins and The 39 Steps, The Crucible will set a more tragic tone than recent shows in the past.
  The Crucible tells the story of the Salem Witch trials, when teenage girls from the town of Salem, Massachusetts accused people in the town of being witches.
  The girls are led by Abigail Williams, who uses the town's fear of witchcraft to take revenge on people that have wronged her. The girls and many of the townspeople tell lie after lie to save their own skins, and only a few people stand up for the truth, which ends up to be a costly decision.
  Theater director Will Jenkins is eager to do such a climactic show.
  "I think I'm most looking forward to the challenge of doing this show because it is so heavy with drama," said Jenkins. "It's been awhile since we've done a drama heavy show, so I'm really looking forward to it."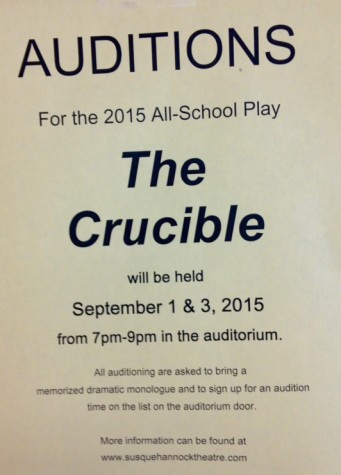 Jenkins thinks that although this play will be more demanding than others, he believes our actors could use a challenge after the success of last year's performance.
  "The show really is difficult in that there is so much for the actors to have to think about," said Jenkins. "With a comedy, it's fairly simple to play a character that gets in crazy predicaments, but in a show like The Crucible, the actors have to concentrate very hard on trying to bring all these emotions out in the characters."
  Senior Beth Martin also has high expectations for The Crucible.
  "Last year's theatre was the best, so hopefully every year after that will be getting better," said Martin. "I'm really excited to see how this play goes after The 39 Steps."
  For this play, audience members will be sitting on the stage instead of the regular seats.
 This distinctive set-up is called a thrust stage, where the audience sits closer to the stage than they normally would and is seated along the sides of the stage.
  Junior Destiny Rositzky likes the idea of a thrust stage.
  "I think it will be pretty cool because people can hear you better," said Rositzky. "It would also be more interesting for the crowd to be up there. I feel like it would be a lot more fun for them."
  The Crucible performances will be in November.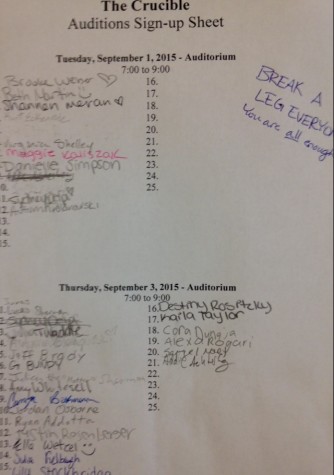 About the Contributor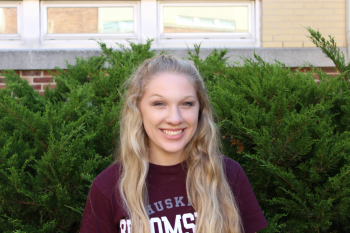 Logan Garvey, Editor-in-Chief
Senior Logan Garvey, a third-year Courier reporter, is editor-in-chief of the publication. At Susquehannock, Logan is also a part of the cast and crew...