The Revamped Courtyard is a Breath of Fresh Air
By Grace Burns, Assistant Editor-in-Chief
September 8, 2015
  Although "fresh air" may currently seem hard to come by during school, this year's newly renovated courtyard will give students and staff an opportunity to study and collaborate outdoors throughout the school day.
  For at least the fall season, the courtyard will be open only to members of the National Honor Society, who can use their privilege passes to access the area.  However, by the spring season the area will be available to the rest of the student body.  Complete with three round picnic tables, a brand new bench and shaded areas, the courtyard will provide a pleasant change of scenery for students and staff during the year.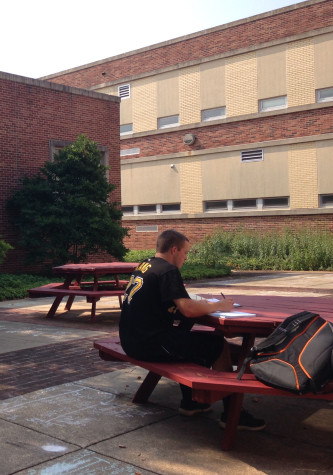 Librarian Kayse Corrieri sees the new courtyard as extremely beneficial, especially regarding student use.
  "I think there's so much potential with the courtyard," said Corrieri. "I really feel like teenagers need to be outside.  They need air, they need space and they need to move around … It's healthy."
  The idea to revamp the outside area was presented and carried out by senior Will Mosko as one of his Eagle Scout projects.  Mosko's main goal was to make the area accessible to the students and staff by restoring a mostly unused space.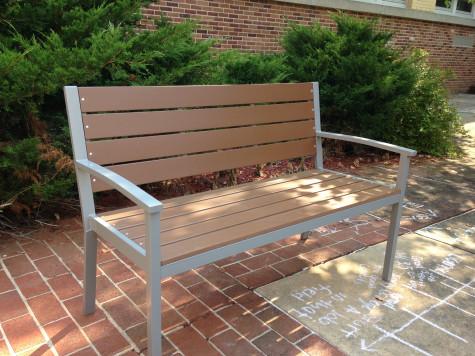 Mosko is pleased with the results of his work and foresees much more use of the area than in previous years.
  "It provides a safe study area for the students," said Mosko. "It's a very nice study area and more scenic than the lobby."
   In the near future, even more additions will be made to the courtyard, including brand new benches made by technology education teacher Jack Stoneberg and umbrellas to shade the picnic tables.
  Senior Maddie McGowan, who is a member of NHS, is greatly looking forward to the liberties associated with the courtyard, especially the privilege of eating lunch outside.
  "I think it's nice that we get a little bit of freedom," said McGowan. "It's a nice advantage [compared to] sitting in a cold … classroom."
  The ability for students and staff to spend time outdoors in a secure space is both advantageous and unique since the courtyard is yet another opportunity to supplement learning.