Jazz Fest Leaves the Audience Jubilant with its Jaw-Dropping performances
Bands from multiple schools came together to share their love for music with the community at the 15th Annual Jazz Fest held at Shrewsbury Elementary School on Saturday, April 25.
Highlights of the Jazz Fest included performances by the following school's jazz bands: Susquehannock High School, Southern Middle School, and Kennard-Dale High School. Other performances were by local bands TimeOut and the Warrior Cadets.
The Jazz Fest has been around for fifteen years and is said by music teacher Chris Poole to be different than other school's Jazz Fests.
"Other schools have jazz festivals, and different schools come to perform in our [Jazz Fest]," said Poole. "Our school is very different though because most schools will have their [Jazz Fest] in their auditorium like a concert, and ours is a coffeehouse where it's very informal. People drink coffee, eat, and during the performances, it's okay to talk… It's not like a traditional concert."
Sophomore Addie Achterberg likes the coffeehouse atmosphere, specifically the decorations.
"I liked the decorations a lot. They were really nice," said Achterberg. "Moonlight Cafe was the theme for [the festival], so [the decorations] were all black and purple. There were moons and things on the decorations."
Poole also has positive thoughts about the event.
"[The best part about Jazz Fest was] seeing the elementary [school] playing really well and the same thing with the middle school," said Poole. "We got a lot of compliments on all of the grade levels being there and sounding really good."
Many seemed to have enjoyed the event, as sophomore Julien Sherman was pleased by how the event turned out.
"[The Jazz Fest] is very nice," said Sherman. "It's really good to get to see other schools play with their jazz bands, so you can see what other people can do and the different styles there are."
The music program plans on continuing the tradition in the following years, and hopes to get more bands to play at the festival in the future.
About the Contributor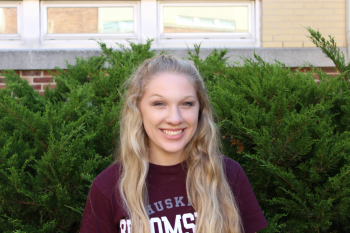 Logan Garvey, Editor-in-Chief
Senior Logan Garvey, a third-year Courier reporter, is editor-in-chief of the publication. At Susquehannock, Logan is also a part of the cast and crew...