Matthew Gantz Memorial Award Celebrates A Love For Travel
By Grace Burns, Assistant Editor-in-Chief
April 15, 2015|175 Views
For students planning to travel or study abroad, the 2015 Matthew Gantz Memorial Award is a scholarship that would be both financially beneficial and contributory in memorializing the life of alumnus Matthew Gantz.
An avid learner, especially through travel, Gantz graduated from Susquehannock in 2000 and soon journeyed to several locations including Mexico, Germany, France and the western United States.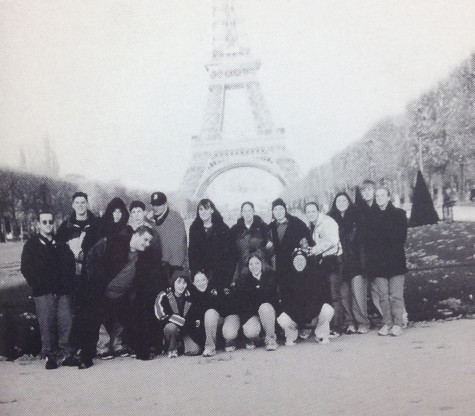 Unfortunately, Gantz, along with his older brother and two friends, tragically passed away in a car accident in September of 2004.  Following the loss of their son, his parents, John and Berit Gantz, founded the memorial award to preserve his memory and keep alive his passion for traveling by aiding other students who plan to travel or study abroad.
Chief Financial and Operations Officer Dr. Wayne McCullough, who knew Gantz, continues to recognize the enthusiasm and passion for travel that Gantz possessed.
"He should be remembered as a student that had a love for learning, particularly in relation to traveling…," said McCullough. "I think Matthew would be pleased that other students, in his name and his memory, will have that same opportunity."
Since 2006, nine students have received the $500 award to assist in travel expenses.  The first recipient of the award, Lauren Herzog, journeyed to France in 2006.  In 2007, Michael Johnson traveled to the Galapagos Islands.  In 2008, Lee Morris went to the Galapagos Islands as well.  In 2009, Tiffine Malamphy took a trip to France.  In 2010, Kyle Vega journeyed to Peru.  Cayla Stifler traveled to Europe in 2011.  In 2012, Gina Swords also went to Europe.  Sydney Strine traveled to Australia in 2013.  Most recently, Alexis Kraus journeyed to Germany in 2014.
Clearly, the scholarship has been instrumental in students' foreign endeavors.  Whether a student travels or studies abroad, the experience can be eye-opening and exceptionally informative.  Exposure to new cultures and environments can facilitate unprecedented, educational growth in a student.
Students interested in the award may submit a short description of their travel plans, name and student ID number to Mrs. Stoley in the guidance office by April 24 to be considered for the scholarship.