The Voice Kicks off Season 8 with a Bang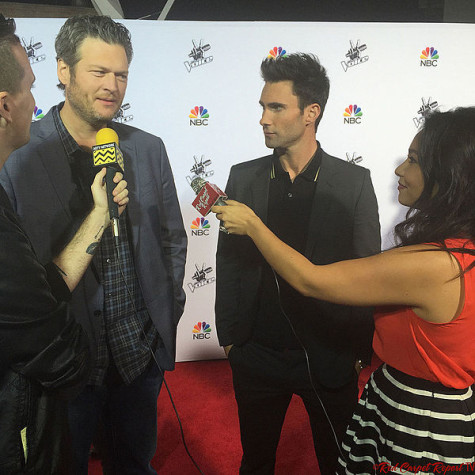 The Voice's season 8 premiere initiated a chorus of gasps and wows from viewers with its never-ending supply of outstanding talent from around the country.
The panel of coaches, Adam Levine, Pharrell Williams, Blake Shelton and Christina Aguilera (who returned after a two-season break to have her daughter, Summer Rain) are all veterans to the show.
The show continued to shock the audience when the coaches performed their rendition of "Are You Gonna Go My Way" by Lenny Kravitz. Here are the top 5 performances of the night:
5. Treeva Gibson, Lana Del Ray's "Young and Beautiful"
A local of Frederick, Maryland, Gibson was raised by deaf parents and also has no hearing in the mid-tone range. This means that if she is listening to music, she hears the instrumentals more than the voice of the singer. Throughout the song, Gibson's voice was pitchy at times, but Aguilera and Shelton both saw this as an easy fix. She ended up picking Team Christina and used sign language to tell her parents her choice.
4. Lowell Oakley, Duke Ellington's "Don't Get Around Much Anymore"
Crooner Lowell Oakley came on the show in hopes of making it big, so he does not have to go into business like the rest of his family. Before going on stage, Oakley gave viewers 3 tips in being a crooner:  1. Dress the part.  2. Make the audience think you are gliding around the stage.  3. Never lose your composure. Oakley most certainly obeyed his own rules with his charismatic personality and silky voice reminiscent of a Broadway production. Levine and Pharrell turned their chairs, and Oakley ended up choosing to go with Team Pharrell.
3. Rob Taylor, Luke James' "I Want You"
After his mother had a stroke, Taylor had to quickly grow up in order to take care of her. Although he didn't get a four-chair turn, Williams assured him that he deserved one. Taylor's soulful voice started out deep and later hit an unexpected falsetto that is guaranteed to give the audience chills. Aguilera turned around almost instantly, and Levine and Williams turned as soon as Taylor started singing falsetto. Taylor chose Team Christina when she won him over by saying, "Do you want some clowns, or do you want someone who takes you seriously?" She later added, "I want to meet your mom. I want to be apart of your family." Going through with her word, Aguilera met Taylor's mom after his audition was over.
2. Sarah Potenza, Face's "Stay With Me"
34-year-old Potenza started off the blind auditions with a four-chair turn and won over the judges with her powerhouse voice. After the song, Shelton noted that her camouflage shirt, cowboy boots and jeans are a sign that they have "a connection." Aguilera didn't say much, but stated that she was "ready and refreshed." William then took the stage by walking to Potenza and explaining how he's just like her; he's, "caught up in the moment." Levine, worried one of the other coaches would win her over, matched Williams' every step, and then proceeded to be on the verge of creepy when he broke Potenza's personal space bubble and started to rock her in his arms like a child. When it was time for her to choose who she wanted her coach to be, Potenza said she'd put in a lot of thought and strategy into the decision she was about to make, and picked to be apart of: Team Blake.
1. Sawyer Fredericks, Soggy Bottom Boys' "Man of Constant Sorrow"
Fredericks went from a shy, homeschooled boy to a brave, soulful voiced singer that earned a four-chair turn and standing ovation from the judges. In record-breaking time, three of the four coaches turned their chairs right in the opening line of the song (Shelton turned his chair later on in the song). After performing, Shelton compared Frederick's voice to sounding like he was speaking into an old microphone. The singer ended up choosing Team Pharrell; a surprise to the other judges, who thought he would pick Team Levine.
The Voice airs on NBC every Monday and Tuesday at 8:00p.m.
About the Writer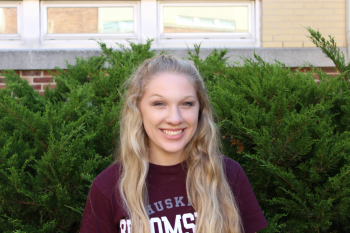 Logan Garvey, Editor-in-Chief
Senior Logan Garvey, a third-year Courier reporter, is editor-in-chief of the publication. At Susquehannock, Logan is also a part of the cast and crew...