Student Models Walk the Runway to Raise Money for Post Prom
By Grace Burns, Assistant Editor-in-Chief
February 26, 2015|116 Views
As a way to raise money for post prom, several students modeled dresses and tuxedos at the Prom Fashion and Vendor Show at the New Freedom Community Center on Sunday, February 22.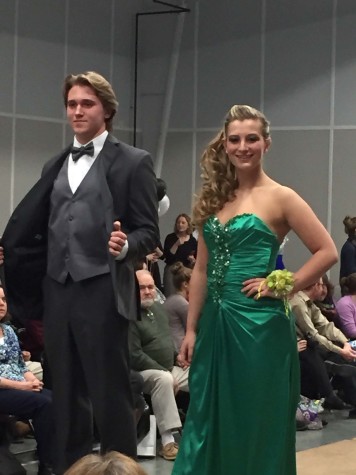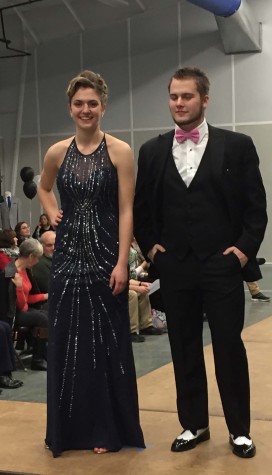 The overall profit of the entire show amounted to over $2,000, which greatly surpassed last year's proceeds of $500.
Prior to the actual fashion show, a vendor fair was held where people visited stands for hair, make-up, jewelry and limousine services.  Both new and used prom dresses were on sale, and there were also raffles and a silent auction for various prizes, including gift cards, free tuxedo rentals and tickets to nearby events.
Student models donned outfits supplied by seven formal wear stores: M'Jourdelle, David's Bridal, Blondie's, Synchronicity Boutique, Ransom's Boutique, Men's Wearhouse and Tuxedo House.
As a reminder as prom approaches, both Men's Wearhouse and Tuxedo House will be giving back $5 per tuxedo that is rented for the school.
Junior Michella Salvitti thoroughly enjoyed her experience at the show as a model.
"I thought it was a really cool way to help raise money for prom, and I wanted to be a part of that," said Salvitti.
The models not only got to enjoy getting their hair done and spending time with their friends, but they also were able to support the Post Prom Committee at the same time.
Senior Angelina Stewart, whose mom is the chairperson for the committee, was elated to model for the event.
"My favorite part was being with all my senior friends," said Stewart. "It was a good time."
Formed in 2001, the Post Prom Committee has since been raising money for the safe after-party that features obstacle courses, inflatables, music, games, food and a plethora of other forms of entertainment.
Co-chair of the committee Becky Green, who has been a member for two years, was in charge of the show and is very pleased with the amount of money raised as she is looking forward to putting together an enjoyable post prom party.
"I think it's a fun, safe place to go," said Green. "You can win tons of prizes."
With the community, parental and student support generated at the show, this year's post prom will certainly be a highly anticipated and unforgettable event.