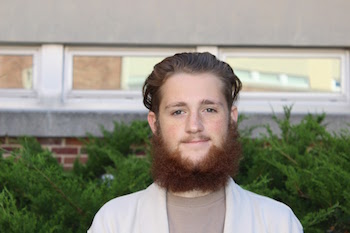 Dan McNair, a second-year member of
The Courier,
is the video editor of the publication. At Susquehannock, Dan is a member of the T.V. Studio, a Link Crew Leader and manager of the boys soccer team. In his free time, Dan likes to spend time with his friends and find new music. Beyond high school, Dan hopes to attend Drexel University or Penn State. Dan is excited to create spotlight videos for
The Courier
about events in the Southern York County School District. 
Dan McNair, Video Editor
May 22, 2017

Junior Matthew Schiffbauer Secures Award at Spring Shorts Film Festival

(Story)

May 12, 2017

Free for All Parking System Causes Conflict

(Story)

May 09, 2017

Warrior Track & Field Show Up with Strength on Senior Night

(Story)

May 02, 2017

A.P. Human Geography Field Trip Cancelled Due to Inclement Weather

(Story)

Mar 28, 2017

Susquehannock High Hosts First Mini-THON

(Story)

Mar 24, 2017

Suky Mini-THON Raises More Than $17,500

(Story)

Mar 16, 2017

Battle of the Buildings Raises More Than $5000 for Dollars for Scholars

(Story)

Feb 22, 2017

How Does Susky Give Back?

(Story)

Feb 15, 2017

Artist of the Week: Sam Steines

(Story)

Jan 25, 2017

Student Council to Hold Second Annual Color Run

(Story)

Jan 19, 2017

Susky Swimming Looks to End Season with Strength

(Story)

Jan 13, 2017

Artist of the Week: Amaya Rutzel

(Story)

Dec 21, 2016

Mini-THON Hosts Snow King Fundraiser Competition

(Story)

Dec 07, 2016

Artist of the Week: Kelly Doogan

(Story)

Dec 06, 2016

Boy's Basketball Makes New Plays for Success

(Story)

Nov 29, 2016

Susky Theatre Performs Peter and the Starcatcher

(Story)

Nov 11, 2016

Video Student Produces Soccer Documentary

(Story)

Nov 08, 2016

Boy's Soccer Season Ends in Battle with Fleetwood

(Story)

Oct 26, 2016

Student Council Prepares for October Fun Night

(Story)

Oct 17, 2016

Suburban Barely Edges Over Susquehannock in Friday Night Football

(Story)

Oct 10, 2016

Fall Sports Celebrate Senior Night and Soccer Hosts Youth Teams

(Story)

Oct 03, 2016

Boy's Soccer Continues Undefeated Streak Against Tough Opponents

(Story)

Sep 14, 2016

Susky's Student Section Seeks Improvement

(Story)

Sep 08, 2016

Susky Football Kicks Off Season with Energy

(Story)

May 18, 2016

Susky's 2016 Prom Makes an Impression on Students

(Story)

May 17, 2016

Matthew Schiffbauer's Short Film Nominated for Six Awards

(Story)

May 17, 2016

Seniors Share Commitment Stories

(Story)

May 16, 2016

Susky Color Run Closes Out "Kick Cancer Week" with Energy

(Story)

May 04, 2016

Susky Track & Field Takes On Gettysburg

(Story)

Apr 19, 2016

Susky Art Students Enter Vans Competititon

(Story)

Apr 04, 2016

S.M.S. Aevidum Closet is Open For Business

(Story)

Mar 29, 2016

Art Students Take a Different Direction

(Story)

Mar 24, 2016

Track and Field Enthusiastically Kicks Off the Season

(Story)

Mar 08, 2016

Susky Juniors Plan for Field Trip

(Story)

Feb 29, 2016

"Get Real" Program Recruits New Peer Leaders

(Story)

Feb 26, 2016

Students Take a Break for S.T.E.M. Summit

(Story)

Feb 25, 2016

Latin Club Looks for New Members

(Story)

Feb 19, 2016

Warrior Wrestlers Establish Success

(Story)

Feb 05, 2016

2016's Battle of the Buildings to Include Senior Students

(Story)

Jan 21, 2016

January's Artist of the Month Takes a Different Direction

(Story)

Dec 22, 2015

Aevidum Branches Out

(Story)

Dec 15, 2015

S.A.D.D. Spreads Positivity to Elementary Students

(Story/Media)

Dec 01, 2015

Boys Soccer Finishes a Season to Remember

(Story)

Nov 17, 2015

Latin Club plans for the 2015-2016 School Year

(Story)

Nov 17, 2015

Boys Soccer Advances to Semifinals of the State Tournament

(Story)

Nov 03, 2015

Guidance Offers Advice to Seniors

(Story)

Oct 22, 2015

JV Boys Soccer Finishes Undefeated

(Story)

Oct 15, 2015

A Few Minutes with Shervington

(Story)

Oct 12, 2015

Boys JV Soccer Continues their Winning Streak

(Story)

Sep 24, 2015

Warrior Football Looks Forward to Success

(Story)

Sep 03, 2015

Cross Country Takes Off with a Bang

(Story/Media)