York Kicks off Mental Health Awareness Month
May 15, 2023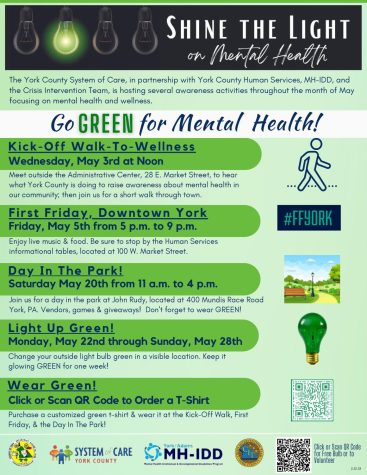 Kicking off mental health awareness month, York County is hosting a month-long campaign to spread the importance of mental health all throughout the month of May. 
York County System of Care is partnering with York County Human Services to spread mental health awareness with a month full of activities to spark conversations about mental health amongst families and schools.
Beginning the month with a kick-off walk, which took place Wednesday, May 3, participants walked through the town of York to raise awareness for mental health. 
First Friday, when participants can enjoy live music and food, also took place May 5 in Downtown York.
Other activities that are coming up are "A Day in the Park" on Saturday, May 20. Spend a day in John Rudy Park and relax with family and friends where there will be vendors, games and giveaways.
Then light it up with Green Monday, taking place May 22 through Sunday, May 28 as a part of the Green Light Campaign. 
The Green Light Campaign is to show support for mental health, spreading through businesses to residential neighborhoods, changing their outside lights to green, organized by Colleen Igo. 
Also, York System of Care is excited to announce that they are partnering with Kylee Social to start a social media campaign to encourage mental health with a filter that gives you positive messages. 
There are many ways you can help spread mental health awareness and help reduce the stigma of mental health. 
Some ways to spread awareness include telling friends and even participating in your own way through social media, starting discussions with family about mental health or partaking in wearing green, which is the national color for mental health throughout the month of May. 
According to our school's social worker, Bianca De-La-Cruz-Gonzalez reaching out for help is very important.
"Often people feel alone when struggling with mental health and feel that they are on their own which isn't true," Gonzalez said. "When struggling with mental health, it can be difficult. It's important to seek out assistance whether it is through school, school counselors, school social workers or even your own therapist." 
Mental health can definitely be a struggle, and it is important to reach out because you are not alone. 
"Some things can be out of your control," Gonzalez said. "It is important to keep that in mind even though it can be hard to grasp. That's when therapy can come into play and can help identify those things that cause you stress and help to cope with them." 
On May 22, students and staff will be encouraged to wear green to show support. On the last week of school in our district, keep an eye out because entrances will be lit up green to coincide with the Green Light campaign.