Athletes Unlace Shoes after a Successful Track and Field Season
May 16, 2023
The track and field season has been very successful for both the boys and girls this year.
With many new athletes on the team, all of the runners have made improvements.
Freshman Caleb Ross gives insight on these improvements.
"There were many improvements from many people on the team," Ross said. "One person I would say I've seen improve a lot is Lucas Hanley. He runs the 800 meter and the 4X800. He has shaved off much time on how fast he runs these events, and I believe he will continue to improve."
Both the boys and girls team achieved PR's (personal records) and more.
"The boys achieved the title of District Champs, and the girls had an awesome season," Ross said. "We have a great team that has been able to do so. We have a strong track and field team with people going to counties, states and even nationals. Everyone puts their all into the sport and that is what allows us to be a great sports team."
Next year, many great runners will graduate after many accomplishments on the track, but there are still new and fresh athletes that will be there to fill in their shoes.
"There will be some rebuilding to do next year, yes, but it won't be a long rebuild because of the runners we have," Ross said. "We will still be a strong team as so many of the athletes have potential to be great. When the next track and field season comes, we'll be as strong as ever."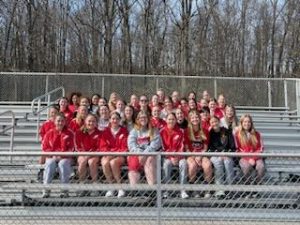 The track and field team is a strong team, but they don't always come out on top. There are other school teams that really give them a challenge, encouraging SHS athletes to continue pushing themselves.
"You have to come to realize that other teams work just as hard as we do, and sometimes even more," Ross said. "The more of a challenge we have and the more we try our hardest, in the end, we still beat most of the teams because of our strong runners that have the warrior spirit."
With such a big team, there is much room for improvement like cutting time off a run or increasing the distance thrown.
Coach Logan Addison is positive the team will show growth in not only skill, but size as well.
"There are 96 athletes on the team, and next year, I believe there will be many more," Addison said. " There was much improvement from many athletes. Some examples I Can think of is Ryleigh marks, Lucan hanley, Ava Lund, Brett Smiley, Kaden Snedegar, Kaden Lampkin and Michael Fox; all of these athletes have shown much improvement, and so have all of our athletes."