Choir MVPs Continue to Represent
March 27, 2023
Senior choir MVPs Erin Finnigan and Matt O'Brien have brought a lot of prestige to the choir program this school year.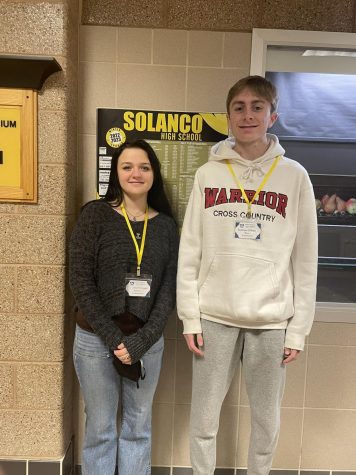 Both students had a successful PMEA District 7 festival, and both advanced to the PMEA State Region V festival. 
Finnigan also earned a spot in the 2023 PMEA District 7 Vocal Jazz Ensemble. 
"I just want to be a part of as many ensembles as possible," Finnigan said. "In college, I'm going to try to do that as much as possible." 
Finnigan's passion is to sing and create music, leading her to excel as she pursues this passion in different groups. 
"Just being a part of a choir is a really good experience…," Finnigan said. "I meet a lot of new people, and I just love making music. It's really cool to hear the harmonies…. It's really fun!"
O'Brien's passion originates from his dad.
 "I started chorus back in 5th grade, [and] I chose to do it because my dad sang when he was a kid," O'Brien said."My sophomore and junior year, I made All-State Choir, and just this year I made All East Choir."
O'Brien plans to continue his music career in college.
"I am excited to continue singing and [to] meet new people," O'Brien said.
Finnigan and O'Brien have a strong passion for chorus and singing with both students, agreeing that it brings them comfort, "definitely [relieving] some stress if you're having a bad day," according to O'Brien.
Jay Althouse, the choir teacher, admits that helping his students progress in their singing journeys is always rewarding.
"Seeing the students grow, and seeing the students' faces when we sing a section of music really well for the first time [is a rewarding part of teaching music]," Althouse said. "Singing is a form of emotional expression. It is healing through many emotions." 
Althouse has always had a passion for music, like Finnigan and O'Brien.
"I loved making music and singing since early elementary school; however, it was my middle school choir/music teacher, Mrs. Christine Ryan that truly inspired me to want to become a music educator and teach students how to sing," Althouse said. "She allowed me to explore my love of choral music and conducting, by working with me on those skills…"."