Peeling Back the layers of 'Glass Onion: A Knives out Mystery'
December 20, 2022
"Glass Onion: A Knives out Mystery" explodes with action and mystery, making the audience wonder what is real and what is simply an illusion.
"Glass Onion: A Knives Out Mystery" is the sequel to the 2019 smashing success, "Knives Out." 
Starring Daniel Craig, Kate Hudson, Kathryn Hahn, and other talented actors, directed and written by Rian Johnson, this film has an impressive cast. 
For those that have seen the original "Knives Out," this movie has a similar plot. The film starts off when a billionaire invites some of his friends to his private island for a fun murder mystery dinner. Similar to how a whole family was at a birthday party in the original, someone ends up dead. 
It is convenient, however, that world-renowned detective Benoit Blanc is already there to solve the case. What makes this new movie a little different, and better, is that it is more exciting than the last.
This movie is rated PG-13 and has a runtime of over two hours, which sounds long, but it does not feel like it. The movie has something for everyone. There is alot of action, mystery, comedy, and drama. The film includes explosions that look too impressive to be real, and there are camera angles from the sky that are wicked cool. It's worth watching the movie again; even knowing everything that will happen, it is still that enticing.  
This film hit the big screen on Nov. 23 but was only in theaters for one week at a select number of theaters. "Glass Onion: A Knives Out Mystery" will be available to watch on Netflix starting Dec. 23. 
After the release of the first "Knives Out" movie, Netflix bought the rights to make two sequels. This is why there was a small initial release and why it will only be streaming on Netflix. 
Some question why the movie had such a small initial release, as Netflix reportedly could have missed out on $200 million, according to CNBC.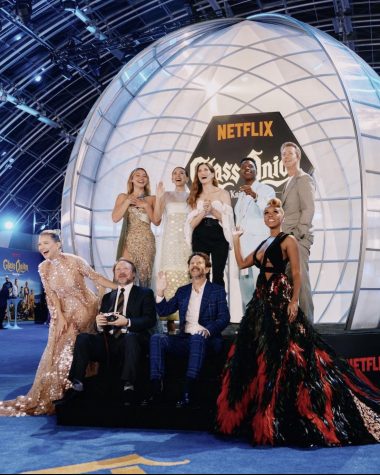 In a video by Netflix, they say that the reason was to draw more people to its streaming platform rather than theaters. That being said, the movie still made an estimated $15 million in the week it was in theaters.
Overall, "Glass Onion: A Knives Out Mystery," regardless of what kind of movie you prefer, is a film that you will enjoy.
If you have access to a Netflix subscription, you must watch it starting on Dec. 23.