Administrators Sign Off on E-Hallpass
December 12, 2022
The administration implemented a digital hall pass system to track students when they leave the classroom after Thanksgiving break.
The new digital system, E-Hallpass, replaces the paper pass and sign-out sheet system, which has been used up until this point. It also has been used in order to keep track of students for their safety and for record-keeping purposes, monitoring students who spend too much instructional time in the halls during multiple classes. 
"
To use E-Hallpass, students log into the website using their school-issued email and password. Once logged-in, students are faced with a pass request page where they must fill out what class they are currently in and the exact place they are going.  For instance, if a student needs to use the restroom, they must select the exact restroom they will be using. The teacher then types in their pin number to approve the pass or deny the request. If approved, a timer begins, and the student may leave the room. Once the student has returned, the teacher must stop the timer. The purpose for the pass and its time frame is logged. Students are given three passes a day, but in special circumstances, more passes can be permitted.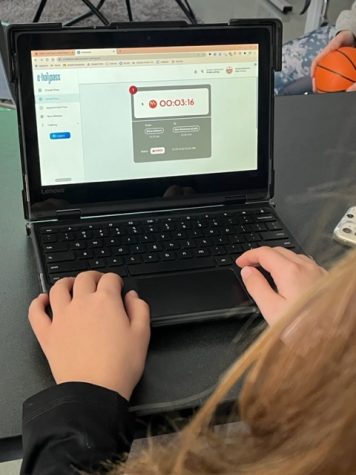 Lack of safety and integrity in the bathroom and hallways have been a growing concern for students and staff. 
To prevent misuse of the bathrooms and hallways, such as skipping class, vaping and overcrowding, different solutions have been presented and tested. 
Staff began hallway and bathroom monitoring in-between classes, not allowing more than five students in a bathroom at once and requiring that anyone outside the classroom must have a paper pass signed by a teacher. The implication of the digital pass is another measure to control where students are and in what volume. 
Teacher Wade Bowers is among staff who support the new electronic system.
"When you don't have a digital footprint, with a paper pass- you don't know when a student might be making multiple bathroom visits with consecutive classes," Bowers said."They could go to the bathroom every single period, and the teacher would never know." 
The digital pass has other new benefits. 
Due to the paper passes no longer being necessary, trash accumulation should lessen, and teachers can know who is where in case of an emergency and can now communicate with other members of staff through E-Hallpass. 
Students can no longer fake hall passes. Other schools like York Suburban and New Oxford have had success with E-Hallpass so far as well. 
Senior Ronald Pugaczewski sees the system's purpose, but has doubts.
"I think it's a step in the right direction, but personally, I do not believe it will achieve the results that everyone is expecting due to a lack of action," Pugaczewski said. "Giving more rules to kids who already don't follow them in the first place won't change a thing."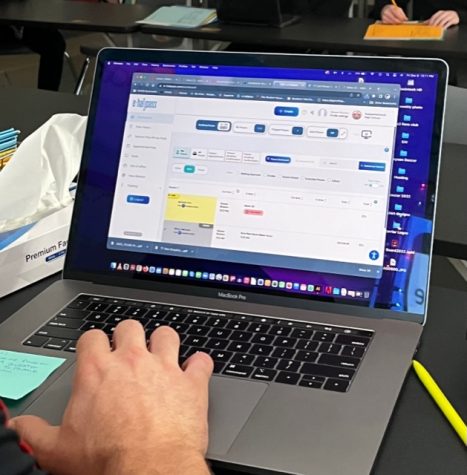 While helping with digital record keeping and timing students' trips, the new pass system brings along new challenges. 
Some students feel uncomfortable with the three passes per day and time limit, filling out the form can be more time-consuming than signing out on paper for the student. 
Principal Kevin Molin sees the system as a way to reinforce the Warrior expectations. 
"The goal [is that] bathrooms should be open for people wanting to use the bathroom…not as a hangout or a place to go meet or do things that they should not be doing at school," Molin said
Molin has already seen positive change since E-Hallpass has been in use. 
"In walking around, in comparison to previous years, our halls are pretty empty because kids are in classrooms, but I think [E-Hallpass] is limiting the amount of kids leaving class for reasons they should not be leaving class," Molin said.
Administrators and teachers are hopeful that the E-Hallpass system will encourage students to focus on their academic growth and not social or safety concerns outside the classrooms.