Choir Students Hit High Notes at PMEA District 7 Competition
November 8, 2022
Two students hit a high note at the PMEA District 7 Chorus competition.
Seniors Matthew O'Brien and Erin Finnigan succeeded at the first in-person auditions at Central York High School on Oct. 22.
Choir Director Jay Althouse sees the competition as a place for high vocal distinction.
"The PMEA District 7 Choir is a highly competitive, auditioned choir at the highest caliber for choral student musicians," Althouse said.
Soprano singer Finnigan has finally reached this milestone for the first time in her choir career.
"I was going to try to audition a few years ago, but I didn't get all the information in-line," Finnigan said.
Fellow singer O'Brien is proud to be following in his father's footsteps.
"My dad sung, and still sings, so I just tried it out in 5th grade and have kept doing it ever since," O'Brien said. "I actually expected it since I have the other 3 years under my belt, but I'm happy since there were 65 people auditioning for 25 spots."
With two of Althouse's seniors making it into the choir, he feels a sense of accomplishment.
"For me, it's a sense of pride for my students," Althouse said. "It's pride for the choral program. We consistently show excellence in music and music education, and our music students and staff should be recognized for it."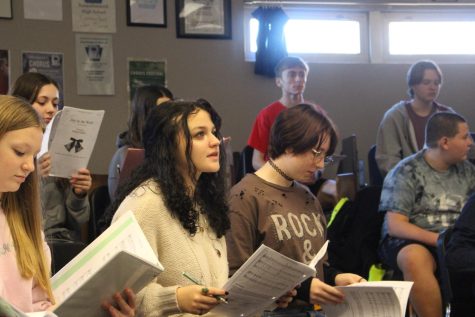 If O'Brien and Finnigan make it to the PMEA Region V Choir, they will then have the opportunity to audition for and possibly be a part of the PMEA All-State Choir.
"The process is similar to sports in which a team can do well in their own County Leagues to progress to PIAA District playoffs, and if they win there, they can move onto the PIAA State playoffs," Althouse said.
Finnigan and O'Brien will perform with the District 7 Choir at the District 7 Chorus Festival on Jan. 13 and 14, 2023 at Solanco High School.
O'Brien will sing bass, and Finnigan will sing soprano.