Shervington-Jackson Named Finalist for Counselor of the Year
November 2, 2022
"That's my student!"
This phrase can be heard at sporting events when Susquehannock high school counselor Matthew Shervington-Jackson is in attendance.
With this type of support, it is no surprise that Shervington-Jackson has been named a finalist for the school counselor of the year by the American School Counselor Association.
The American School Counselor Association, ASCA, stated in their press release that their finalists were chosen on the criteria of, "school counseling innovations, exemplary school counseling programs, leadership and advocacy skills and contributions to student outcomes."
Students like junior Amanda Diggs adore him, appreciating his support during hard times.
"He just really helped me through and helped me push throughout it and pass my classes," said Diggs.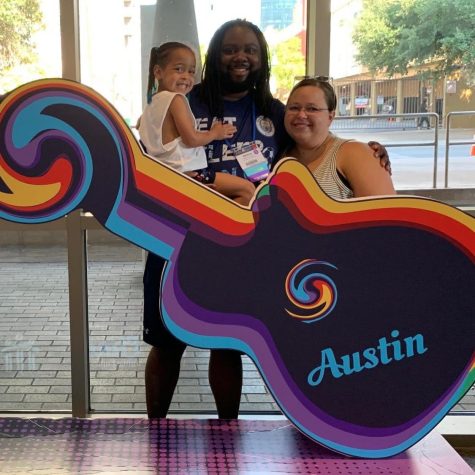 He also pushes his students to their fullest potential and encourages them to do their best, according to senior Aneesha Kandala.
"When I joined the Aevidum Club, I did not think that I was going to be in a position of leadership, because I used to be a very, very quiet person," Kandala said. "I was not like a leader type of person, but he thought through that and just wanted the best for me and that definitely opened a lot of doors for me."
Shervington-Jackson helps students feel valued.
"Being a woman of color, especially in this area where it isn't as diverse, in my opinion, it's always been hard to feel uplifted and be uplifted, especially by the faculty…But Mr. Shervington has always been kind of like a person that always wanted the best for his students," Kandala said.
Shervington-Jackson has many connections with many of his students, whether it be from advising or contributing to the Multicultural, Aevidum, Alliance and Anime clubs or making an effort to get involved and know his students.
"Creating connections start with something as simple as knowing the student's name," Shervington-Jackson said. "They may not be a student on my caseload, but if I know who that student is, then they start to wonder how does he know me,…then they start to have conversation… so it all starts with making a concerted effort to get to know students and be authentic and meet them where they're at."
Shervington-Jackson was overjoyed when he found out the news about his status as a finalist for School Counselor of the Year, even though at the time, he was in an unpleasant situation.
"Honestly, I really had to pee," Shervington-Jackson said. "I had just brought students back from a field trip, and I had to use the restroom all day."
When he finally got the news, he was very excited.
"I was like 'this is great' and I was freaking out, and the excitement and the rush hits me, and then we finish our phone call, and I run to the bathroom," Shervington-Jackson said.
The ASCA celebration will be held on Feb. 2, 2023 in Washington D.C., where the School Counselor of the Year will be announced.