Music Department Makes Comeback
May 19, 2022
The band, orchestra and choir programs have been working to encourage growth after COVID and reach new goals this year.
The music department is focusing on working its way back to a regular concert schedule.
The orchestra, led by director Zachary Levi, was able to put on all of the performances that they do in a typical school year.
These include their October costume concert, a winter concert in December in conjunction with the choir, a chamber music concert with a featured guest artist and a spring concert in April.
In addition, the orchestra had several students that auditioned and performed for the PMEA district orchestra.
Senior Ella Kloster, freshman Harrison Mabon, junior Matthew O'Brien, junior Makani Ross and senior Zackary Sharkey were selected for the PMEA district orchestra.
Ross and Sharkey were also a part of the Central Region Orchestra and Sharkey made it to the PMEA All State and NAfME All National Orchestras.
Levi reflects on the achievements and growth of the orchestra this past year.
"I feel great about how the students in the orchestra have come back, ready to get back to it," Levi said. "We haven't done much in terms of competitions to show what is success but I feel like success is measured in students' willingness to work, students' willingness to get back to the ensemble family [and] students' positive experience and feedback from what we've been able to get back to doing."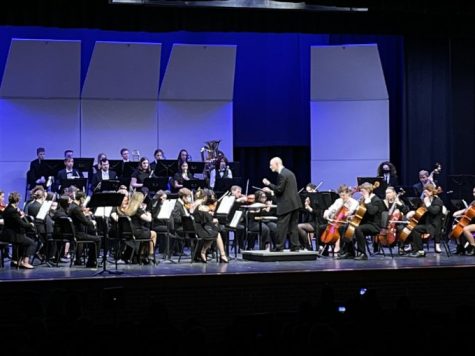 Levi also explains how students worked together to pick a theme for their spring concert.
"I put some ideas out there, got some ideas from the students and then compiled a list of what they might want to do and put it to a vote," Levi said. "[They] chose a theme that involved picking music from different eras in musical history. I know [having a choice] is something that they appreciate as part of getting back to their ownership and involvement."
Levi goes on to describe the relationships between the students and how they encourage each other.
"I feel like [the students] all do a nice job of encouraging each other and helping to motivate each other to do better," Levi said. "I always appreciate the relationships that are developed, trying to encourage that kind of atmosphere is appreciated while still trying to make sure they're playing at a level that they can be proud of."
Band director Christian Poole explains the competitions that the marching band participates in.
"The marching band competes regularly in [the] Cavalcade of Bands," Poole said. "In addition, every 2 years we participate in Bands of America. That is a National circuit for bands who wish to throw their name in the hat and compete with bands across the country."
The indoor color guard and indoor percussion also competed at the Keystone Indoor Drill Association against other schools in Maryland and Pennsylvania.
Poole describes the increasing interest in these indoor band programs.
"We experienced a small number of high school students interested in our indoor programs this winter, which opened the door for more middle school participation," Poole said. "Our indoor drumline overcame the challenge and won our championships in the Gold level of KIDA."
Middle school students are gaining opportunities to participate in the band with a middle school drumline being established in this past year.
The jazz and concert bands had winter and spring concerts, and the concert band is looking forward to performing at graduation this year.
Poole reflects on the successes of the band this year.
"I feel that this has been an extremely successful year," Poole said. "The marching band winning another championship to start the school year was really nice. In addition to in-person concerts, The Jazz Fest was another event we had for the first time in 3 years."
Poole describes what students like most about being involved in band.
"I think the students enjoy the performances and competitions most," Poole said. "The daily work is what makes the band perform well, but it's natural to enjoy getting dressed up and performing for an audience."
Poole describes the vision for the marching band's show that they'll be performing next year.
"We are looking forward to our new marching band show, called 'Cirque Noire,'" Poole said. "This is a dark circus and pretty much what you might see or hear at night, when the circus is closed."
The choir, led by director Jay Althouse, is working its way back to a normal concert schedule.
They performed at the homecoming football game, at their winter concert with the orchestra and at their spring concert.
The choir plans on returning to their full concert schedule next year, adding back the Night of Broadway concert.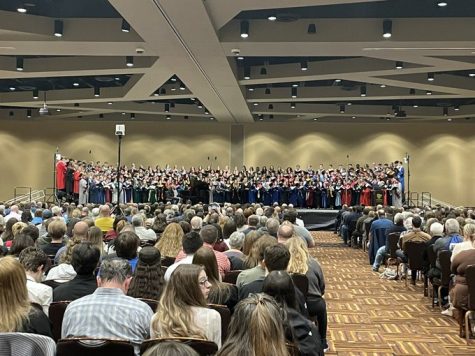 Several other events took place this year, Matthew O'Brien was selected for the PMEA All-State Choir and multiple choir members will be participating in an event for Memorial Day.
"The biggest [event] coming up is a Memorial Day ceremony," Althouse said. "We're already out of school so I asked a couple of students to sing America the Beautiful at [a] Memorial Day event in Glen Rock."
Althouse looks back on the struggles and ultimate growth of this past year.
"This is the first year we're returning to concerts and rehearsals as we normally would have," Althouse said. "So it's been nothing short of an amazing comeback but it was a challenge for sure …we're happy to be back and we're having [concerts], we're just happy to do those things again."
Althouse describes his plans for expanding and improving the choir program moving forward.
"I have a lot of ideas of how to bring the middle school and high school together a bit more," Althouse said. "We're going to create more of a big buddy type of choir system where the high schoolers are going to communicate, meet and rehearse with the middle and elementary schoolers more often and create a connection with each other."
Being involved in music has a multitude of positive effects and Althouse describes some of them.
"Music has so many profound impacts," Althouse said. "It's a proven fact that your brain develops differently when you're involved with music and you have more empathy towards people and towards the world. But in addition to that, they're learning professionalism, [working] together and [learning] to overcome adversity when things don't go well."
Althouse discusses how people changed because of COVID and the vision for the spring choir concert that reflects that.
"We've all changed with the pandemic," Althouse said. "All of our personalities changed and our spring concert this year was about how we found ourselves throughout the pandemic. This spring concert was all about digging deep and letting music be a part of who we are."