Collin Brusse Swings to Victory
May 13, 2022
Boys tennis has had a great start to their postseason, claiming the YAIAA division two title for their 2022 season.
Junior Collin Brusse exceeded his postseason goal this year by placing first in both singles and doubles alongside senior Lucas Reck.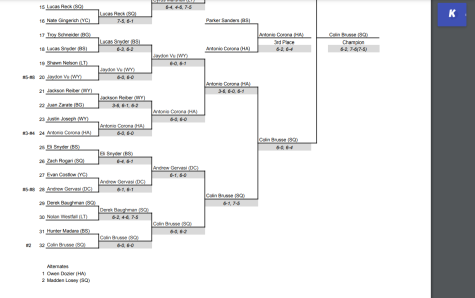 "I am very pleased and excited with how far I have gone this season," Brusse said, "Coming into this year, my goal was to qualify for singles districts."
Brusse needed to place third or above in counties to advance, but he overachieved and placed first in both singles and doubles.
View this post on Instagram

Brusse has been playing tennis since second grade but  started playing competitively last year.
Watching Brusse grow as an athlete, juniors Peyton Joines and Anne Jackson have played tennis with Brusse for many years. 
Jackson believes Brusse has a successful future with his tennis career.
"I expect him to have a great year just like this one," Jackson said, "Without a doubt, he will make it to counties again next year, but regardless, the team will still be happy for him no matter what."
Brusse works hard year round to continue his excellence on the court doing various things.
View this post on Instagram

"Every school day, the team has tennis practice for 2-2.5 hours practicing various drills and physical conditioning," Brusse said. "I take private lessons for tennis, and over the summer, I am involved in a different tennis program called YACTA with people from our school and from around the county."
Joines believes Brusse has the "patience" to get through the rest of his high school tennis career along with much more hard work and skills.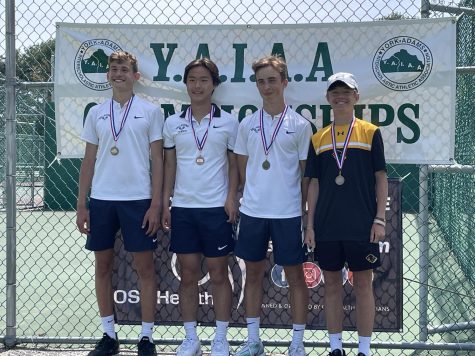 Brusse had the opportunity to play and learn alongside Susky's former first place singles winner, Andy Snyder.
"Colin has grown a tremendous amount since the beginning of his freshman year," Joines said, "Patience is an extremely difficult trait to fulfill while playing tennis, but Colin is extremely talented in the sense that he uses this to his best advantage."
View this post on Instagram

With winning first in the singles and doubles tournament in counties, Brusse advanced on to districts.
Brusse lost in his singles match in districts and will play his doubles match for districts on May 13.