Ukraine V. Russia Situation: What Students Should Know Now
May 11, 2022
Putin and the Russian government have charged into Ukraine to try and accomplish the goal of taking over the nation.
The war has been enduring since Russia fully launched its invasion on Feb. 24, and so far, mass casualties have followed with no hope of the war coming to an end anytime soon.
Andrew Warren, the AP U.S. History teacher at the high school, has been keeping tabs on the situation.
"The current situation in Ukraine is one that changes hourly and daily," Warren said. "This is a very different type of conflict for not just students, but [for] anyone to follow because they have access to how these events have been playing [out] instantly in their social media feeds."
People not only in the United States, but all across the world, are somewhat undermining this war and are pointing out how the outcome of this war could be a huge problem.
Many knowledgeable about the Russian-Ukrainian War believe a majority of it was caused due to egotistical ideas.
Russian president, Vladimir Putin is believed to have a sizeable ego that influenced his decision to attack Ukraine.
AP Human Geography teacher Matthew Amberman has been updating his students since the rumor of war between the two states began.
"I feel that [Russia] has lost its spot on the world stage, and its leader, Vladimir Putin has been looking for any way possible to say 'Hey, look at me,' basically trying to reinsert himself," Amberman said.
He credits a partial part of the cause for this war to Putin's ego because in the end; he is also human and has an ego which he uses to try to make Russia more relevant and to try to show Russia's power.
Another reason Amberman believes was the cause of this conflict was due to Putin's geographical greed- as well as being influenced by the previous history of Russia.
"I think Putin simply just wants land," Amberman said. "He wants safety and security. He just wants to make Russia feel important again which he did, but in a bad way.¨
Amberman believes that a stop to this situation could have been done years before trying to address Putin, but he also believes that now Putin will get what he wants.
The question that many people have is if the United States Government should get involved to help Ukraine.
"It is something worthy of consideration as well as investigation," Warren said. "The answer of the question has been answered differently by different presidents and different time periods, and now it just depends on how our current president continues to address this issue."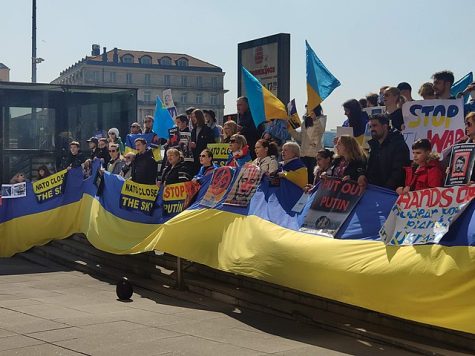 Even though a countless number of people are not educated on this situation, it is still something that the people of the U.S. should be concerned about, and Amberman admits that history should not be repeated.
According to NPR´s Kelsey Snell, Congress has been preparing $39.8 billion package to maintain U.S. support for Ukraine. This is after an already approved package of $7 billion more that was approved last week, alongside the roughly $13.6 billion Congress had already approved in March.
"History tells us… I think if you allow Putin to[continue this war], it is like an ego trip- allowing him to run roughshod over Eastern Europe would be a bad idea," Amberman said.
As of right now, it does not seem like this conflict may be ending anytime soon.