Track and Field Sprints into a New season
April 4, 2022
The spring season has begun, and that means the Track and Field season is officially beginning. 
Throughout preseason, everyone worked to get stronger and to make sure the team was connected before March 7 when the official season started.
The returning athletes finished last season strong as the girls ended with a 6-1 record while the boys finished 3-4.
Every event coach held practices before the season started, which were not optional, in order to have the athletes prepare for the upcoming season.
Each event had different tasks to do during the offseason in order for them to jump right into techniques, distance, times, etc. once the season began.
After a week and a half of practice, the team had a scrimmage on March 17 against Manchester Valley and Spring Grove, hosted at Spring Grove. 
This scrimmage allowed the athletes to get a general idea of what their race times and throwing distances would look like in order for them to better themselves and to get ready for the first meet. 
Junior thrower Ava Holloway believes preseason went well for the team as a whole. 
"We have had one scrimmage this year at Spring Grove against Spring Grove and Manchester Valley," Holloway said."Our team came out strong, and I think that everyone performed very well, with many people even achieving personal records. The meet went this way because of the hard work we have been putting in at practice and because of the competitive drive many athletes on the team have. We have been performing extremely well, but if I think there is anything we could improve on, it would be looking to other teammates for help and encouragement and taking their advice."
The preseason helped the athletes understand what they need to improve on, in order to be successful for the first meet. 
Not only this, the athletes have created a strong team in order to be successful throughout the season. 
Head Coach JC Lewis speaks highly of the leaders on the team, as track is an interesting team dynamic. 
"I love the leadership we have on this team," Lewis said. "Track teams always have a weird dynamic as there are often very competitive returning athletes who practice with athletes who are perhaps younger or brand new to the sport.  Our returning athletes have an added responsibility of showing our new folks how we operate at practice, what to expect at meets, etc. Our athletes have done a wonderful job stepping up in this regard, and I'm so thankful for their leadership."
The returning athletes have helped the team in the past years, but hold an important role for the newcomers. 
Senior sprinter and jumper Shelby Derkosh believes the team is prepared for the first meet and is excited for the season.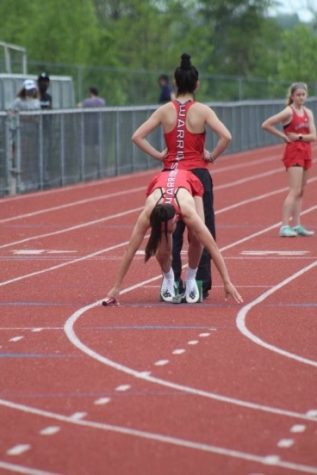 "I think we have a very good team and a very healthy atmosphere at track," Derkosh said. "Everyone looks to lift one another up and make the person next to them better. "I am really excited to see what the team is going to do this year. Everyone has been working really hard during our practices, and based on the times we've run and the work we've had with handoffs so far, I think we have a good chance at making it very far this season."
As everyone has prepared for the season, there are slight changes for each individual in order to be the best they can be for the first meet. 
This may include correcting steps, fixing handoff patterns, figuring out different ways to jump, lifting more, etc. 
Based off of the last scrimmage and the season so far, the team believes they will be successful this year. 
"I see a bright future for the team this year because of how hard everyone is working and the talent we have coming out to the team," Derkosh said. "Based on accomplishments from previous years, I could see many of us advancing to counties, districts and possibly even states."
Not only does Derkosh believe this, Lewis predicts successful outcomes made by some athletes. 
"It is still so early in the season, but our expectations are certainly high for a number of our athletes," Lewis said. "While I expect that we will have a great representation at counties as we have in the past, I also think that a fair number of our individual athletes as well as relay teams on both sides have a great shot at extending their season to districts and even states."
The varsity track and field team began their season by taking the win against the York Suburban Trojans on March 29. Girls finished the meet 84-59, and the boys finished 123-20. 
Their next meet will take place on Tuesday, April 5 at Susquehannock High School, as they will host the West York Bulldogs.