Franklin Beats School Scoring Record
March 10, 2022
Senior Jalen Franklin beat a school record for the most points scored through a high school career on Tuesday, Feb. 28. 
Franklin went into the game with a 1,625 points record and came out not only adding to it but breaking the all-time record at Susquehannock which was 1,646 held by Frank Wright in 1974. This record has not been beaten for over 50 years.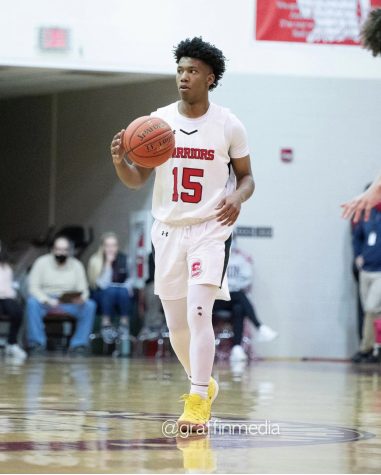 He earned his recording-beating shot in a district playoff game against Northeastern where the boys took home a win, (66-64). Franklin added 27 points.
"I was just happy about the win, but dreams do come true,
Jalen said. "You always dream big coming to high school, breaking records and being a role model, so it's important."
Josh Franklin, who is Jalen's younger brother, is beyond proud of all that his brother has done. Josh is also a varsity captain basketball player on the team, and, just like others on the team, he looks up to his brother. 
"It's cool to watch him doing all these big things, especially one of my family members," Josh said. 
Although this is a huge achievement, Jalen was not even focused on it. 
"I didn't know I was close to beating it half way," Jalen said. "I told coach not to tell me numbers, so I wouldn't know what game it happened, so if I do it, I just do it."
 His hard work and determination is seen by most of his teammates and coaches, like assistant coach Frank Posner,  picking up on everything he does in practice, out of practice, in games, etc. 
 "What sets him apart is that I remember him working in the offseason since before he was a freshman," Posner said. "What people see in the game and how he handles tight dribbling situations, he was working on in the summer of 2017. I imagine he's been working on his game thoroughly since well before he joined our district in eighth grade."
Jalen has not decided on his life after high school; however, he plans and hopes to continue his basketball career.