Students Choose Life Paths for after Graduation
January 26, 2022
Trade school, the workforce, college or even joining the military are all options that come to mind when seniors are considering what to do after graduation. 
A survey was sent out to the senior class, asking them what their plans are for after graduation. 
Out of the 38 responses, 82 percent of those decided they are going to attend college after they finish high school. 
The senior class will be attending various colleges, including: Penn State University, Shippensburg University, Coastal Carolina University, Stevenson University and others.
Senior Amanda Kroner plans on attending Millersville University while majoring in elementary education. 
"I chose this because I love working with children, and I knew I would do well with this career," said Kroner. "I chose to go to Millersville because they have a great teaching program, and I felt comfortable with the campus."
As students make decisions on their majors, they find a college that will best educate them and prepare them for a career in the future. 
As for Kroner, she knew Millersville would provide her with the best education in order for her to be most successful in the future. 
Rather than attending college or a university, 5.3 percent of students will  join the military, according to the Courier survey.
Senior Spencer Mathena decided that he will be joining the United States Marine Corps after high school.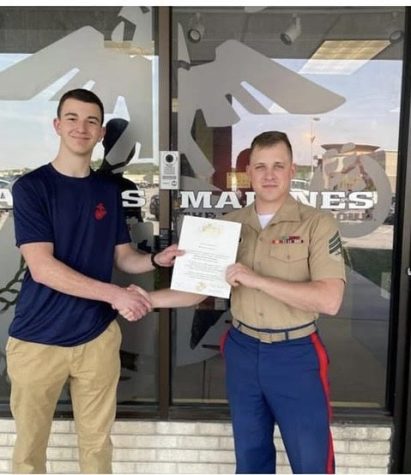 "I decided to do this since I wanted to serve my country and preserve all the freedoms this country has given every American and myself," Mathena said. "I decided on this since I saw the transformation my Brother had when he joined the Marines. This was a huge inspiration for me since I was able to see firsthand what the Marine Corp will do to a person."
As college and the military are options for students, so is technical school. 
2.6 percent of students will graduate from Susky and then attend a technical school.
Senior Ashley Turner has decided to go to the Universal Technical School to become a certified diesel mechanic. 
As her dad works in this field, she grew up watching him and that helped her make her decision for the future.
"My dad is a diesel mechanic, and I go into work with him to learn more about what it takes [to become a mechanic]," Turner said. "I have always enjoyed working on all sorts of different things with him."
Turner will be going to school for a total of 57 weeks, 45 weeks for Diesel and 12 weeks for Cummins engine work. 
As this field is mainly dominated by males, it makes her stand out. 
"I will definitely stick out more because it is a male dominated career," Turner said. "[I will] show other females that it does not matter what gender you are or what gender dominates the field. It is all about what you want to do."
Seniors still have time to make their decisions for after high school, despite graduation day approaching.