Senior Student-Athletes Take a Leap into their Future
January 24, 2022
The mental visualization of competing  at the collegiate level is a dream for many high school athletes, and only some are sought to make this goal a reality. 
Many Susquehannock seniors have chosen where they would like to continue their athletic as well as academic careers, despite the challenges seeking this goal provides. 
Senior Sam Elsen has chosen to commit to Albright College for Golf studying an undecided business.
Not only did Albright want Elsen, but he also had offers from Lebanon Valley College and Pitt Johnstown.
 "We contacted the Towson coach and Mount Saint Mary's coach, but their roster was already set," Elsen explained.
Elsen has big beliefs for choosing his bright future at Albright.
"I think that Albright is going to give me a very good education in whatever major I choose, and I believe that playing golf there and being trained there is going to help develop my golf game to pro level," Elsen said, "Once I met with the Albright coach and visited the campus I knew that this was the coach and school I wanted to play for."
View this post on Instagram
Besides golf, there are other students committing for other sports. 
Senior Olivia Pasko committed to Salisbury University for soccer.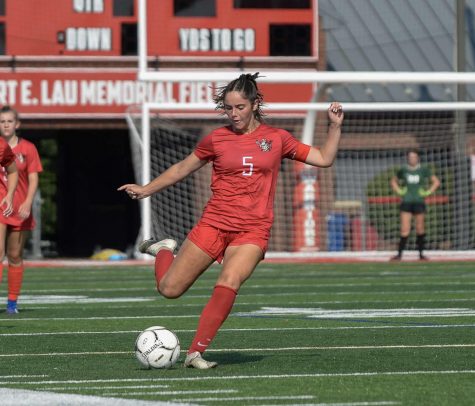 Pasko did not have any other offers, but she knew right away that Salisbury was her future.
"I knew that Salisbury was the best choice for me," Pasko explained, "not only because of the academics and reputable business school, but also because of the team environment and past success. I knew I wanted to contribute in some way."
Pasko said she knew that "the coaches and girls [she] met were very welcoming from the start… [she] knew that these were the type of people [that she] wanted to surround [herself] with."
https://www.instagram.com/p/CTzMUUIL9wwjY-ro4yIoix4oaPu5vGguzQ00L80/
Senior Katlyn Krebs will continue her athletic and academic career at Millersville University for lacrosse studying elementary education, for a similar reason.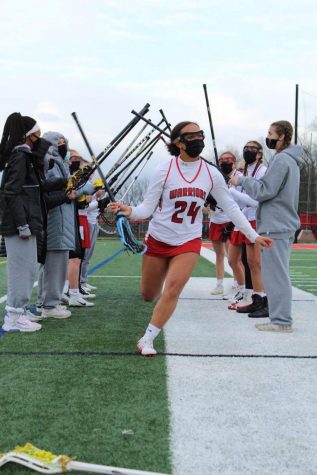 Krebs had other offers to continue playing lacrosse, one including Shenandoah University, but she did not think she fit in as well at Shenandoah, as she did at Millersville. 
"I've been working toward the goal of committing for a long time.It was something that I knew I always wanted to do," Krebs said, "Now I think a new goal for me as I start college would just be trying to balance everything out and staying on top of work and athletics at the next level."
Another lacrosse commit, but for the boys side, is senior goalie Trent Leuba.
Leuba has chosen to play for Hood College as he will be studying finance
Leuba had many offers to choose from, which made his decision even more difficult."[I had offers from] Hartwick College, University of Tampa, Chatham University, Arcadia University, Anderson University, Juniata College and others," Luba said.
Committing to a future is not easy, especially when choosing to combine athletics and a high level of education.
"The decision was hard for me to make because of its large impact on my life and future," Leuba said, "I wouldn't say I am not looking forward to any part of it- the hardest part will just be the adjustment to being a college athlete [also having] a major adjustment to waking up and focusing on sports every day on top of the drastic changes that come along with college itself."
View this post on Instagram
Going from catching the ball in a stick to the ball being on the ground being hit by a stick, senior Megan Stiffler has decided to attend Lynchburg University for field hockey.
Stiffler has been playing field hockey her entire life with the same group of girls.  
"With this transition to college field hockey, I have to learn the style of play of a whole new group of girls, which is a challenge that I am excited for," said Stiffler. "I will really miss the girls on our high school team."
Lynchburg was not the only school interested in Stiffler; she had offers from Roanoke and York College.
Making the decision was not easy, but for Stiffler, it was not that difficult either.
"The decision actually wasn't very hard for me to make, the moment I walked onto campus at Lynchburg, it felt like it was the place I was supposed to be for the next four years," Stiffler said "I have put in a lot of effort to achieve this goal, attending multiple field hockey showcases, being a part of a club team, and putting in the work outside both our school and my club team."
There are many multi-sport athletes throughout the school that plan to showcase their talent at  a higher level.
Senior Shelby Derkosh was one of the multi-sport athletes that received recognition from multiple colleges.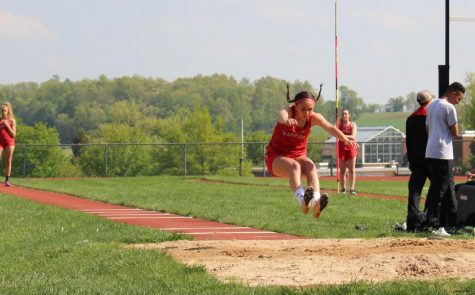 "For soccer I had some offers from schools like Virginia Wesleyan University, York College, and Maine Maritime Academy. For track, I had offers from Towson University, Youngstown State University, Kutztown University, Millersville University, and some other smaller schools as well," Derkosh said.
Derkosh committed to Millersville University for track and field to study biology premed because she "…really [likes] the coaching staff over at Millersville, and they take a lot of time to look at each individual athlete, whether they are their top performers or girls that are struggling a little bit more," Derkosh said.
Students continue to commit to different colleges for both sports and academics at Susquehannock High School.