How COVID-19 is Impacting Students this School Year
December 6, 2021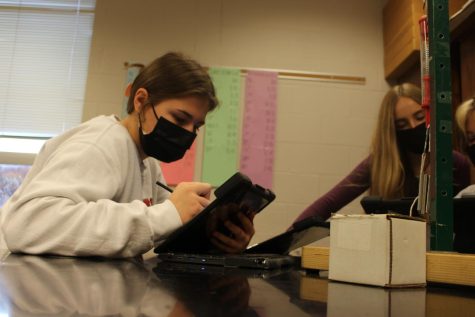 Going into the second half of the school year, students have been able to find some sense of normalcy among the ongoing pandemic and its restrictions.
But even with the full return of in-person schooling this year, everyday life and students' mental health are far from back to normal with 78 student cases of COVID already this year.
When asked about returning full-time to school, sophomore Cameron Smyth was positive.
"For me, it was very hard, but I got used to it pretty quickly, I'd say," Smyth said. "That's definitely something I missed because last year I did fully online, so when I came back, I was very anxious because it was my first year in the high school, and before that, I had never stepped foot in it… meeting people and getting to know my way around helped a lot." 
Many students felt similarly and enjoyed coming back to school even if it was overwhelming.
Principal Kevin Molin has seen how kids feel about coming back to school.
"I think it's helping kids to be back," Molin said. "I think the one thing I've heard from kids is kids recognize that life outside of school still isn't normal."
Everyone in school is aware of the lack of normalcy, and educators are striving to bring that back into our lives.
School nurse Melinda Landis also discussed students' feelings in coming back to school among difficult transitions and changing mask mandates.
"I think students, for the most part, are glad to be back at school and back to a somewhat normal schedule," Landis said. "I think everybody's ready to get rid of the masks at this point, and I think everyone will be much happier once that happens, but I still think things aren't normal yet."
Although there is much debate surrounding the mask mandates, Landis agrees that they are helping to prevent the spread of COVID-19.
"I think the masks have helped us, they've kept us from having to quarantine a lot of students, [and] I do believe it has helped in the spread of the infection," Landis said.
Smyth has few complaints about the masks other than their inconvenience.
"It's a lot weirder only seeing people's top half of their face," Smyth said. "Having to talk louder [is] probably the most annoying part."
Recent rulings by the Pennsylvania Supreme Court appealed the decision to lift the mask mandate and the School Board decided to continue the mandate for the time being.
Student life may be slowly returning to normal, but Molin acknowledges that students still have struggles.
"There are some things, stressors for families, that[ do] carry into the school and it is impacting kids." Molin said." We definitely can see that." 
The pandemic has had a huge impact on students' mental health, and Landis has seen those effects.
"Mental health is a huge part of this," Landis said. "We're seeing more issues, I would say, with anxiety and difficulty transitioning back into the regular classrooms." 
Molin has also noticed COVID's effect on students' mannerisms.
"Behaviorally, I think COVID is having an impact on people because it's impacted their lives, it's impacted their home, more so than here at school," Molin said.
Molin is aware that students and their mental health require more priority.
Landis encourages people to be considerate of one another in light of all these mental health struggles.
"I think everybody just needs to be a little bit more understanding of what we're all going through," Landis said.